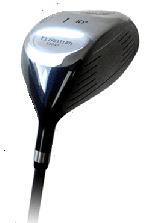 John Letters Trilogy driver
Two new Golfmagic members will be receiving the latestJohn Letters Trilogy driver as winners of our joining prizes during November and December.
Chris Coumb from St Georges, Weston-super-Mare in Somerset, says he has been playing once a week for the last six months and achieved a handicap of 27.
"With this new driver I hopes to get down to 19 or 20 handicap by the end of the summer," says the 27-year-old steel company draughtsman, who got his first taste of golf in the navy playing courses as varied as Montevideo and Royal Dornoch.
Peter Kahl from Maidenhead in Berkshire is also well travelled. The 45-year-old was born in Hamburg, Germany but has lived and worked in the UK for 20 years.
"I have been playing golf for about 15 years," says the freelance translator and am a founder member of the Castle Royle club in Berkshire."
The eight handicapper is hoping his new driver will help him keep in single figures, which he first achieved two years ago.
Dennis Wilcockson from Loughborough won a range of FootJoy products in our pre-Christmas competition, including a pair of DryJoys shoes, FootJoy short-sleeve rainshirt and FootJoy rain suit, woolly, hat, mittens and leather holdall.
He works for a pharmaceutical company as an environment and safety engineer and is a 17-handicap member at Longcliffe Golf Club.