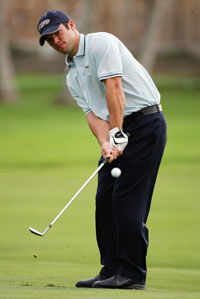 Paul Casey – now with Nike
Callaway Golf has signed Thomas Björn to use its clubs and balls. The Dane makes his debut with their equipment in Singapore at the Caltex Masters starting on Thursday.
A member of two winning European Ryder Cup teams, and Bernhard Langer's vice caption for the record win over the US last September, Bjorn will play the new Big Bertha Titanium 454 driver, Big Bertha fairway metals, Callaway forged wedges and HX Tour ball.
Bjorn, who represents the Dubai Creek Golf and Yacht club, will also use Ben Hogan Apex forged irons and an Odyssey White Hot putter, both brands being part of the Callaway Golf stable.
The announcement follows Nike's acquisition of Englishman Paul Casey and American Justin Leonard to play their equipment alongside Tiger Woods.
Says Björn (34): "These clubs and balls are going to help me get my game to the next level. Because I play around the world, it's important that Callaway is supporting and servicing all the markets where they compete. I am really looking forward to getting started."
A fixture near the top of the European Tour's Order of Merit for nearly a decade, Bjorn has posted nine career wins and his 11 runner-up finishes include the 2000 and 2003 Opens at St. Andrews and Royal St. George's, respectively.
Casey's move from Titleist follows his controversial comments on American Ryder Cup golfers, for which he has since apologised.
The 27-year-old was impressed on his visit to Nike's research and development headquarters at Fort Worth, Texas and, it seems he impressed them.
"Nike treats its golfers like athletes," says the outspoken Ryder Cup player, beginning his first year with full exemption on the PGA Tour as well as in Europe. "They care about helping us compete and will get us the equipment we need. I believe Nike will dominate golf some day."
Leonard, the 1997 Open champion, will add golf equipment to the Nike golf shoes he has worn for three years. He gave up lucrative contracts to wear Nike products.
I used to go through a lot of Band-Aids plasters because of the golf shoes I was wearing and I could tell you where to find Band-Aids in any pharmacy at a Tour stop and what kinds they had. Then I got a couple pairs of Nike golf shoes to try and though a couple of companies contacted me about wearing their shoes and getting paid to do it, I wasn't willing to give up the comfort."