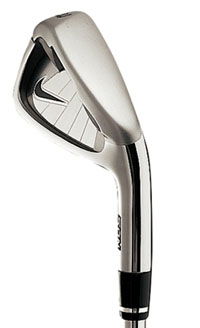 Nike NDS iron
Nike aims to introduce three new products to its line, which will be available in the UK in October – Pro Combo Utility irons aimed at low to mid-handicappers, NDS drivers and irons for beginners and higher handicappers who can't afford top-of-the range clubs and Ignite fairway metals to compliment the popular Ignite driver.
Pro Combo irons, a version of which is currently being used by top US Tour player Stewart Cink, are intended for better players looking for an edge in their long-iron play and versatility in their shot-making.
Says Nike's Mike Kelly: "They're a hybrid club for players who prefer the look of a more traditional iron."
The clubs have tungsten inserted in the back of the club head, to produce a lower and deeper centre of gravity, which Nike claims makes them easier to hit than a more traditional long iron, especially for light rough or from tight lies on the fairway.
Provided with a lightweight Speed Step steel shaft, each iron will cost £149. They will be available in 18 (2-iron), 20 (3) and 22 (4) degree lofts.
The Nike Distance Series (NDS), are a range of irons costing £349 for steel shafts and £429 for graphite, aimed, say the makers, at beginners and high handicappers looking for affordable clubs. The set will include 3-iron to pitching wedge.
The women's NDS irons, also available from October, will come with a graphite shaft (5-SW, cost £379) in right hand only.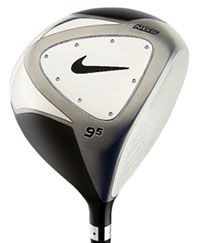 Nike NDS driver
Nike's latest NDS driver (£199) will have a 2041 Beta Titanium face and 400cc titanium head. NDS fairway metals (£129) will have the centre of gravity positioned to make striking balls off the fairway much easier. They will be available with Fujikura graphite shafts for both men (RH and LH) and women (RH only).
Ignite T60 fairway metals have will be introduced to complement the Ignite driver.
"What we achieved with the earlier T40 was to increase the weight of the clubs' plug sole inserts without sacrificing their power and finesse, making it far easier to get the ball in the air," said Kelly. "With the Ignite T60 series, we have placed more weight in the sole to have balls flying effortlessly off the fairway."
Ignite T60s have two shaft options: a Fujikura graphite shaft (£199) in a strong 3-wood or 3T (13-degrees), and 3- (15), 4- (17), 5- (19), 7- (21)and 9 (23). A lightweight Speed Step steel shaft (£149) is available in the same range of clubs, excluding a 9 wood. The 3, 5- and 7-wood are available in left hand with Fujikura graphite shaft option.
Also available in October will be the Fujikura Ignite graphite women's version (£199.00) in right-hand only.