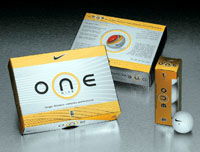 Nike One Gold
Look out for the latest balls from Nike – the new One Black brought wins for Trevor Immelman and Stewart Cink, while the One Gold helped Stephen Ames to the Western Open.
The core of the One Black, its engine, is the biggest, Nike claims, it has ever created. "It takes amateur golfers to places in the fairway they have only dreamed of reaching," says Nike.
The makers say the One Black places a premium on low-spin and high launch for those who prefer a crisp feel with more penetrating trajectory.
It's a three-piece/two-cover golf ball with a 408 Seamless dimple pattern.
The Nike One Gold remains the only four-piece/three-cover golf ball on Tour. It's for players who prefer to shape their shots and need to optimise control around the green. It has a 432 dual seamless dimple pattern.
Both golf balls are available now at a suggested retail price of £40 per dozen.