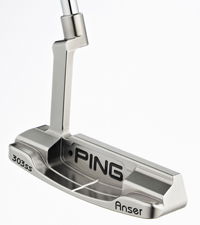 Redwood Anser
Taking the name of the Californian city where the late Karsten Solheim designed and engineered the world's first heel-toe weighted putter back in the late 1950s, Ping has introduced a new, stylish range of Redwood putters, already in the hands of some of the world's leading players.
The range features three classic models – the Anser, Zing and Piper S – and has already met with considerable Tour approval, with Lee Westwood using the Piper S model with great success at the Ryder Cup and several other Ping staff players, including Miguel Angel Jimenez (black nickel Anser), having already put one in their bags.
Precision milled from 3003 stainless steel to create classic shapes and confidence-inspiring flowing clean lines, the Redwood range features slightly heavier-than-standard heads that are designed to enhance feel and promote a more solid strike. They have a distinctive AVS Redwood multi-textured grip, too.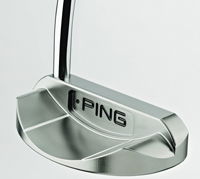 Redwood Piper S




Available in right and left-handed models they can be customised for length, loft and lie and each is sold with a plush red and black head cover with a recommended price of £190.

*What putter are you currently using? Send us a review for the chance to win great prizes from John Letters over the next few months. We also want to know what other equipment is in your bag, including driver, fairway and rescue clubs, irons, balls, shoes and waterproofs. Submit auser review now.

Golfmagic has over 3,000 items of equipment reviewed within its system, many of which golfers use to consider their purchases. Most, too, can be bought from our shopping partners, which are listed on the left-hand side of every page.

And if you've got equipment to buy or sell second hand you can do that too, in our popularclassified section.