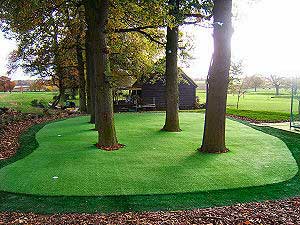 Southwest Greens' surface at Nailcote Hall
Here's a Christmas gift idea for the golfer who has almost everything - a synthetic, all-weather putting green to replace that border devoted to roses, ground-cover plants and shrubs that seems to need constant pruning - not to mention the area of lawn that seems to require mowing almost every other day during the summer.
Yes, I know it's sacrilege speaking in such tones as a man married to a member of the Garden Writers Guild and with a son who's a horticultural photographer, but having seen this illustration ofSouthwest Greens' latest project at Nailcote Hall, near Coventry, it's what I really, really want!
This artificial practice green is the stunning centrepiece for the new short-game academy at Nailcote Hall, home to the British Par-3 Championship. The 2,200 sq ft green has transformed an area of the golf complex among large trees and previously unusable.
The project, for former Welsh World Cup player Mark Mouland's golf school, is the latest in a series of high-profile installations carried out by Southwest Greens at venues including Whittlebury Park, Old Thorns Hotel , Olympic Golf Centre (Kent), Foxhills and Urban Golf's new Smithfields indoor venue in London.
Using the Pro System, which gives a Tour-standard putting surface as well as excellent shot-holding capabilities, the Nailcote green, says Southwest Greens, provides a short-game practice facility that bears all the hallmarks of a real turf green - but at a fraction of the running costs.
Installation costs start from around £1,000, I'm told, for a do-it-yourself surface, with a home system costing between £3,000-£7,000.
SG wouldn't reveal what the Nailcote Hall green cost but claim the end result is a low-maintenance, hard-wearing, bent-grass green that looks, feels and behaves just like the real thing and with the addition of light rough, fringe and bunkers, as well as realistic breaks, contouring and even tiers, provides a superb short-game area. Stimp meter speeds can even be adjusted according to a customer's requirements.
Meanwhile, no doubt you'll find me weeding the garden and mowing the lawn - at least until my lottery numbers come up!