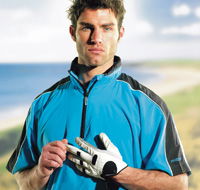 ProQuip weathershield in black/aqua
ProQuip, innovative suppliers of weatherwear to Europe's winning Ryder Cup team at the rain-soaked K Club in September, has extended its successful Silk Touch range by introducing two stylish lightweight wind tops.
The ultra-soft, micro-woven fabric, exclusive to Berwick-based ProQuip, now features a Silk Touch half-sleeve wind shield and wind jacket. both is Teflon-coated to protect golfers from wind and showers.
With its silky feel, the half-sleeve top (£50) is available in aqua, moss and purple, off-set by black shoulder striping, while the long-sleeve wind jacket's black body is blended with striking sleeve and shoulder stripes including red and lime. Price is £55.
Richard Head, ProQuip's managing director and chief designer, said: "The dramatic yellow shoulder and sleeve striping in the European Ryder Cup team suit is reborn in our new wind range, with edgy, vibrant colours and bold full colour contrast zips. This is high performance weatherwear to get you noticed."