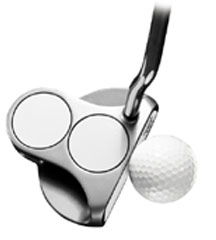 Odyssey White Hot 2-ball putter.
Odyssey White Hot 2-ball putter
Price: £149
It usually takes more than a mere putt to win golf's 'Shot of the Year.'
It was a 90-yard wedge for Nick Faldo to earn the accolade at Oak Hill in 1995 and a full driver off the deck for Colin Montgomerie in Dubai in 1996.
But against a barrage of top shots in 2001, including holed approaches by Tiger Woods and Jose Maria Olazabal, Paul Lawrie took the award with a 40-foot putt.
And it was pretty spectacular at the Home of Golf – a snaking effort through the Valley of Sin at St Andrews' 18th to claim the Dunhill Links Championship.
The club he used was the Odyssey White Hot two-ball putter – that definitely justifies the 'Odd' in Odyssey – with weird head and sole technology.
The club was also responsible for Annika Sorenstam's back to back wins in Japan in November and was the preferred putter used by Padraig Harrington to win the Volvo Masters in Montecastillo to end his run of seven second places.
Harrington continues to roll them in with this strange-looking device and looked so comfortable with it both on the ultra-fast greens of Augusta and the following week on the rain-soaked surfaces of Druids Glen in the Seve Trophy.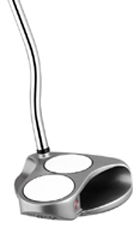 Looks weird, works well.
But how does the club fair in the hands of less-accomplished players? The reports are mixed.
My local pro John Pengelly took one to Dubai on a golf break with his pals and found that from within 10 feet it was 'almost cheating'.
"I couldn't miss on those smooth, fast greens. It's easy to line-up and I seemed to hole everything," he said almost apologetically.
And from further out?
"Well, that's where I struggled. It seemed difficult to control distance from 20-30 feet – it's more of a close-in putter."
Based on an original idea by renowned short game guru Dave Pelz, who created a putter for D A Weibring in the late 1980s, which attached three golf balls in line to the back of a traditional heel-toe putter, the '2-ball' instead uses two ball-size images fused into the top of the triangular-shaped clubhead.
Pelz's club was eventually outlawed by the Rules authorities as non-conforming but the Odyssey version works on a similar principle of lining up the ball images.
Shirley Miles, the 19-handicap ladies captain at my club, convinced here husband this Odyssey putter would make an appropriate birthday present after watching it in the hands of Sorenstam and Harrington on television and is delighted with her choice.
"My putting has improved tremendously," she says. "The times I used to three-putt, it was embarrassing. I used to flick at the ball.
"Now I line-up up the two circles and take the putter back and through and wait until the back circle has gone through the point of impact. Now I two-putt 90 per-cent of the time and last week had an 85 in the medal."
"£149 is a lot of money for a putter but I'm worth it and it has certainly improved my golf," she says.
Golfmagic rating:8/10

Now you tell us...have you tried the Odyssey 2-ball putter? If so, let us know on The Forum.