John Letters,
the long established club-maker from Scotland, has added more equipment to its Trilogy range with the launch of new irons, woods, wedges and a putter.

John Letters T2 iron.
The T2 Trilogy irons (available in 2-iron to sand wedge) feature a slightly oversized head with perimeter weighting.
The heads in the long irons have been made to fly the ball higher, while the short irons encourage a more powerful, penetrating ball flight. A thicker top line enhances confidence over the ball, says sales director Mike Reynard.
The clubs, in right-hand versions only with Dynamic Gold steel shafts, are aimed at both the improver and single-figure golfer. Cost is £399 for nine irons.


Trilogy utility clubs.
Four lofts – 17, 19, 22 and 25 degrees - are available in the range of
Trilogy Utility woods
, finished in an attractive dark blue stainless steel head.
Says design and development director, Gordon Rennie: "They are ideal for those tight golf holes where accuracy is at a premium. They're easier to hit than a long iron but create a higher trajectory and softer landing." Right-handed only they cost £79.99 each.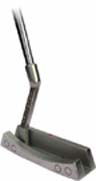 The angular Tramline.
The
Xtra Spin wedges
(£69.99) are available in 52, 56 and 60 degree lofts, while the
Tramline
putter has 33 and 34-inch shaft options and costs £99.99.
Adds Reynard: "The innovation is in the head design where we have taken the concept of removing the weight from the face and repositioning it behind the shaft to encourage a truer roll of the ball."