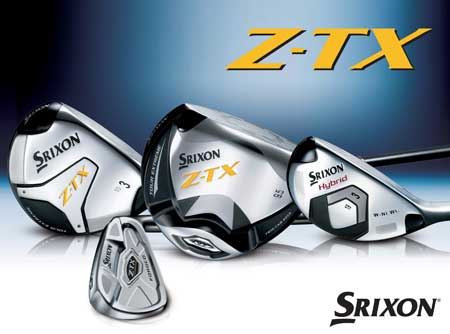 The new Srixon ZTX range of irons, driver and fairway metal plus the Srixon hybrid
  Srixon has unveiled its new range of Srixon Z-TX irons, Z-TX fairway metals and Z-TX drivers. It will also be bringing out a new hybrid in four loft options.
The company claims its Srixon Z-TX irons will have a sweetspot one-fifth bigger than previous models and combined with a thinner face and tungsten nickel weights to lower the centre of gravity, will deliver 'greater distance and a higher trajectory.'
Also the 'groove angle and pitch differs in the long and mid to short irons for better spin performance' while a new forged, satin finish head shape with a straighter leading edge, optimises feel and confidence.
Iron sets will be 5-ron to pitching wedge with either Diamana/Srixon graphite (£549) or NS 950 steel (£499) shafts – both in right-hand regular flex only. The NS steel option can be custom fit in stiff flex with additional 3- and 4-irons available.
The Srixon Z-TX driver launch features 9.5 and 10.5-degree lofts in regular and stiff shafts with a custom-fitted 8.5 degree version also available. Recommended price will be £349.  
The 460cc forged face, has a low density Titanium head, claiming to deliver length, ball speed and forgiveness. Improved accuracy, says Srixon, comes from a unique six-part bulge and roll design controlling the trajectory and delivering a tighter dispersion.
The Diamana mid-kick point shaft has been exclusively designed for Srixon by Mitsubishi Rayon with a firmer butt end and tip for accuracy and stability.
The Srixon Z-TX fairway metals are easier to hit than previous models, say the makers, with a 15% larger sweetspot and new thickness structure on the shallower face for greater distance and a higher trajectory.
The fairway metals (£199) will be available in 15-degree (3-wood) and 18-degree (5) versions in right-hand only with Diamana mid-kick point graphite shafts in regular and stiff flex.
Srixon's Tour players have been involved in the design of its new Srixon hybrids producing a shape that is less rounded at the toe, and therefore less tendency to hook the ball. The shallower-shaped head with tungsten nickel weights in the toe and heel helps deliver higher trajectory shots with less run, allowing a player to attack more pin positions.
The Srixon hybrids will be available in 16-, 19-, 22- and 25-degree lofts for right-handers only with a recommended price of £139 each.