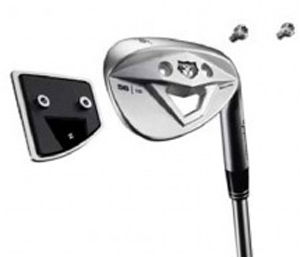 TaylorMade's XFT wedge
TaylorMade has revealed its latest pioneering contribution to golf technology - interchangeable faces on wedges. Their XFT wedges would have ZTP grooves which conform to the Tour legislation to be introduced in January 2010 and deeper Z-Groove faces for club golfers which conform until 2024.
A price hasn't been set on the new clubs, but the wedges will come with a torque wrench to inter-change faces.
Aware that many players, especially pros, have favourite scoring clubs they're reluctant to change because of the consistency in weight and feel, TaylorMade is recommending that pros replace the face four times per year, elite amateurs twice and handicap golfers maybe once a year.  
Though innovative in its way, this exchangeable face technology (XFT) is not new, surely? I recall clubs with 'insert faces' being tried by several manufacturers in the early 1990s - the softer material sitting as a permanent plate within the frame of the stainless steel head? It never took off, even though clubheads made up of several components including polymer and elastomer are commonplace now.
"It's not just the fresh grooves, it's obviously a nice part to have equipment stay at its peak," says Brian Bazzell, TaylorMade's manager of iron and wedge creation. "And a lot of guys get a grind on the wedge or they get the wedge dialed in exactly the way they want it. Now the ability to just switch out the face means they can keep it performing highly and they won't have to recreate it."
TaylorMade says it also makes it easier to produce wedges for Tour use, now that new regulations are being introduced to prevent Tour players being able to use deep grooves to spin the ball even out of severe rough. Apparently Retief Goosen identified an almost 40 per-cent reduction in spin and increase in trajectory from the newly regulated grooves.
"This is a break-through product for the wedge category and for TaylorMade," says Bazzell said. "There hasn't been a lot of changes to the technology for 70 years."