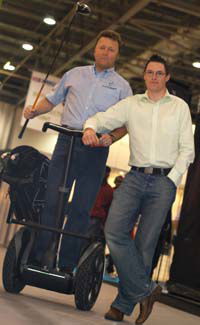 Wayne Mitchell (left) and Matt Edwards
London Golf Show exhibitor Wayne Mitchell had to give chase when a thief tried to ride away on his motorised trolley.
He had been demonstrating the electric, two-wheeled Segway to visitors leaving the show when a member of the public jumped on and made off with the £4,000 trolley.
Wayne set off in low speed pursuit - at around 15mph - on another trolley and when the thief ended up going the wrong way along a dual carriageway, he first commandeered a passer-by's car and then chased the thief up some railway steps. The culprit finally ditched the trolley and ran off.
Wayne, from Matlock, Derbyshire, said: "When I saw him heading off down the road, I thought he was going to come back but he just kept going. When he disappeared around the corner I hopped on another trolley and chased him for about a mile.
"Even though he went up a dual carriagewayin the wrong direction, I kept sight of him with the help of someone else's car and after I had quickly explained the situation to him and then saw the thief trying to drag it up some steps over a railway.
The stunned driver who helped him was local man Matt Edwards, 27, who visited Wayne on the Segway stand the following day.
Matt said: "Without doubt it's the strangest thing that's ever happened to me. I was just parking my car when I saw this guy come past on a two-wheeled scooter and then another guy came flying after him.
"This chap got in my car, pointed to a bloke across the road and said 'follow that Segway'. When I got back and told my wife what happened she sat there in disbelief."
Wayne was demonstrating his Segway Golf Transporters to people leaving the London Golf Show at 6pm on Saturday night when the drama took place.
Passers-by watched in amazement as the man, in his twenties, sped off down the road with Wayne close behind.
Wayne added: "I thought I'd catch him up as I've obviously got far more experience of riding on the transporters and he was a bit clumsy, but he was determined to do anything he could to get away.
"The amazing thing is that his friends were all watching and they were in the pub later that night when I got back. I didn't bother calling the police because at least I got my trolley back and there wasn't much damage. I can laugh about it now but I was livid at the time."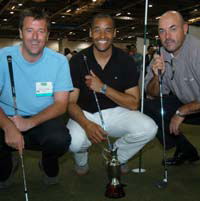 From the left: Matt LeTissier, Mark Bright and Bruce Grobbelaar




Radio and TV presenter and ex-Charlton footballer Mark Bright won the London Golf Show Premiership Masters Skills Challenge.

Bright, a seven handicapper, beat ex-pro rivals including Bruce Grobbelaar, Matt Le Tissier before seeing off the challenge of Liverpool fan Mark Stewart on the specially created Southwest Greens short game area.

Former Chelsea legend Gianfranco Zola was among the famous names who attended the show on behalf of the SPARKS charity.