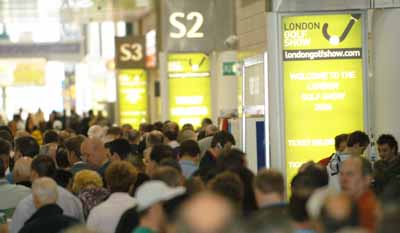 Hundreds queue for the London Golf Show
Former Rock star Rik Wakeman, a reformed drugs and drink addict, has enhanced his reputation in recent years as an entertainer, radio presenter and contributor to the popular TV series 'Grumpy Old Men.'
And yesterday, on the opening day of the London Golf Show, he likened his first visit as a trip to 'Hamleys for unfit geezers' – in other words, a high quality store of boys toys where you can shop 'til you drop.
Wakeman, who plays off a handicap of 13 at his local golf club in Diss, Norfolk, said: "I love golf and it's really nice to come down to a show that's absolutely full of big boys' toys - it's like Hamley's for unfit geezers.'
Actor Kevin Whateley, star of 'Auf Wiedersen Pet' and the new detective drama 'Lewis' was equally impressed – spending 20 minutes holding up the long queue of patient, paying customers waiting to clip wedge shots from a dockside platform to a synthetic green moored 120 yards into the water.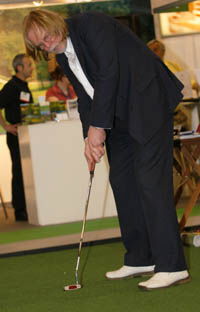 Rik Wakeman practises his putting at the show




"I enjoy playing golf but wish I was a little better at it. Unfortunately I don't get as much time as I like because I'm away filming a lot. But it's a great game – and this a great event."

However, without wanting to sound too much like one of Wakeman's irrascible malcontents, I found the exhibition at the ExCel centre disappointing in its content with only Mizuno, Wilson Staff, Srixon, Ram, Nike and TaylorMade among the major hardwear brands providing new equipment for visitors to inspect or try on the indoor range.

Brands like Titleist, Callaway, Nicklaus, Lynx, Cobra, Ping, Benross, Hippo, Nicklaus, Odyssey and Cleveland were signifant by the absence, equally disappointing for the organisers who hope to attract over 30,000 to this year's show, which finishes at 5pm on Sunday.

Alternatively visitors could lose themselves in what one golfer described as 'the chocolate factory' - Europe's biggest golf store set up exclusively for the duration of the show by Direct Golf UK.

As visitors poured on to the Dockland Light Railway which links the show site to central London, at least one in four seemed to be hugging a new putter, driver or rescue club, its head wrapped in a distinctive plastic bag.

In 2005, visitors had complained that their browse around the show was constantly interrupted by representatives of UK and overseas holiday destinations and property developments thrusting leaflets into their hands once they stepped into an area set aside for travel.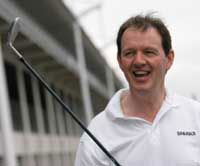 Actor Kevin Whateley tries to hit the floating green




This year, however, hotels rubbed shoulders with exhibitors selling magnet therapy products while Tourist Boards vied for attention with innovative and sexy clothing brands like Froghair, Bunker Mentality, Tommy Hilfiger and Urban Golf.

Golf fashion, we're told, has street cred with a new generation of golfers and with its daily fashion shows, the London Golf Show certainly gave the latest designers a chance to express themselves.

But whether new age golfers will wish to draw attention to themselves, in outrageous colours and prints before they have mastered the game is debatable.

The organisers of the London Golf Show are to be applauded for their determination in providing a platform for the industry to showcase its products – and already plans are under way for a repeat show in 2007 – I'd just like to see a little more innovation with a centrepiece arena providing non-stop entertainment.

With hundreds of players under contract to the major brands it would be great to see European Tour pros making guest appearances for interviews and autographs, playing trick shots and maybe competing on the synthetic chipping and putting greens.

But, while the top golfers are getting richer, with £1million tournaments commonplace, the industry is facing tough times in the marketplace and can't afford to pay for and resource ground-breaking shows like this.

So the old geezers that Wakeman referred to, may well have moved on to line up for that first tee in the sky before the London Golf Show gets the support it deserves from both the trade and the public.

What did you think of the London Golf Show - its highs, its lows, its value for money. What clubs did you try? What did you buy in the superstore? Whom did you meet? What destinations are you tempted to visit? Tell us on the forum.