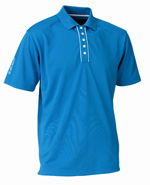 Stuburt Performance shirt
Stuburt, best known for its shoes and rainwear, is to launch a range of performance clothing for Spring/Summer 2010.
It follows the successful unveiling of its Autumn/Winter 09 collection of base layers and outerwear.
Using advanced fashions, fabrics and technologies, Stuburt will introduce polo shirts and V- and crew-neck sweaters.