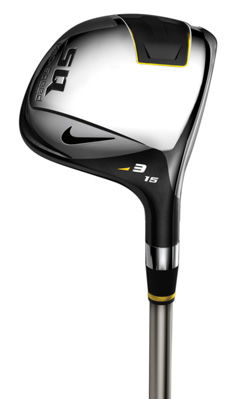 Fairway outlook: Nike SQ Machspeed 3-wood
     Hot on the heels of the Nike SQ Machspeed driver next March will come the Nike SQ Machspeed range of fairway woods.
Featuring the same technology as the new driver, these SQ Machspeed lofted metals make use of Total Swing Aerodynamics to help golfer hit the ball further and straighter by moving air faster across the sole, over the crown and around the skirt of the clubhead.
According to Nike, the SQ Machspeed fairway woods optimise aerodynamics throughout the entire swing to deliver more speed and reduce drag. That means that the tapered heel and toe-side aerodynamic PowerBow design promote smooth air flow around the head for quicker acceleration.
As clubhead speed increases, so does drag force but Nike says its aerodynamic PowerBow and sole diffuser designs keep the airflow smooth and close to the club surface to reduce drag and encourage faster acceleration.
Reducing the drag throughout the downswing allows the club to reach its true maximum speed, delivering maximum energy to the ball.
Four different loft options are available to golfers who'll have the choice of a 3-wood, 4-wood, 5-wood and 7-wood. There will be three shaft flex options and the price will be around £150.