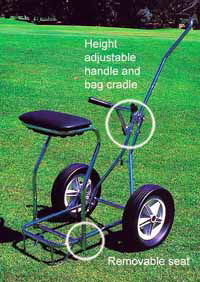 Kean Kart frame and seat
There has been much discussion already this week about the pace of play – not only on the Tour but on local courses.
So it's appropriate that a new trolley has been launched – complete with a seat.
It's not a new idea but in the light of five-hour rounds and golfers carrying injuries and disabilities, the timing is immaculate.
The Kean Kart has been a popular accessory in Australasia for 30 years, where presumably golfers are used to taking a break during a round, to soak up the sun and anything else that might be handy and refreshing.
The folding trolley features wide track tyres and weather-resistant chrome, incorporated into a durable tubular steel frame. An adjustable handle enables the bag to be balanced and cradled to suit any golfer.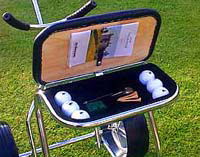 under seat storage
A cushioned seat opens to reveal a compartment for holding spare balls, tees, gloves, course planner, sandwiches, energy bar. Surprisingly it's not deep enough to hold a 'tinny' or two!
Comments Steve Woods, director of Scottish-based importers Supple Ltd.: "As a New Zealander, I have owned a Kean Kart for many years and I'm excited that we now have the opportunity to let golfers in Europe experience its quality."
Cost of the trolley which is available in three models, including a four-wheel version, is £99. For further information call 0870 4460336 or visit www.keankarts.co.uk