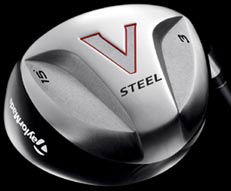 V Steel sole.




Probably the most prolific clubmakers in the game, TaylorMade is set to introduce yet another line of equipment to the British and European market – its V Steel fairway metalwoods.

The V Steel is TaylorMade's second fairway wood introduction in the past four months, joining the R580 Ti fairway woods, unveiled in December.

Featuring a distinctive V-shaped sole, the clubs, say TaylorMade, have been 'designed engineered to deliver power, playability and accuracy.' The sole has been made to minimise turf resistance and twisting at impact.

The clubs also feature the same 'pull-face' construction used in its 500 Series drivers. The makers claim computers have identified and positioned a centre of to produce a medium-high trajectory for 'maximum distance' and which is ideal when 'working' the ball left and right in its flight.

Lightweight shaft flexes include extra stiff, stiff, regular, senior and ladies. The club is available in 2-wood (13 degrees), 3-wood (15), 4-wood (16.5), 5-wood (18), 7-wood (21) and 9-wood (24). For left-handrs there are 3-,5- and 7-wood models. Recommend price is £149 (steel shaft) and £179 (graphite).

Whether the buying public can keep up with yet more technology, whether they can afford it and whether it can make any difference to their game, will be fascinating to follow.