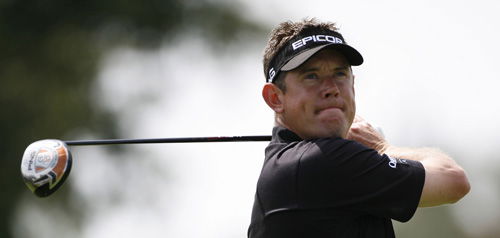 Westwood in action with his new driver
While the London Golf Show revealed a display of some of the latest clubs and gadgets available to the discerning golfer, it was the shaft in the Ping G10 driver, which Lee Westwood used to open the event that caught my eye.
The Aldila Voodoo shaft has an unusual X-core construction - a continuous spiral 'weave' of super-strong graphite throughout its length, that Westwood claims dramatically increases its stability and consistency.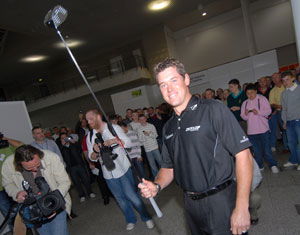 Westwood opens the show with his driver




The new technology adds only some extra 5 grammes of weight, which allows it to still come in at weights of 60-80 grammes, enabling a full range of flexes for all standards of golfers.

The Voodoo has already been working its magic with some 10 wins on tour, including Westwood's last two and Geoff Ogilvy's victory for Cobra at Doral in March.

With Aldila letting the buzz build before its official summer launch, I had the chance to hit a dozen balls on the show's range and had the immediate impression of a low-torque without that harsh-feeling - even in the Regular flex. I couldn't hook it, however hard I hit it.

Accuracy doesn't come cheap, though, with a price tag of £150-£200 per shaft expected.

Westwood's great pal Darren Clarke has also been experimenting with shafts and used a RE-AX TP 90 shaft in his 8.5 degree TaylorMade Burner TP driver to stripe a majestic drive down the 72nd hole on his way to victory in the BMW Asian Open at the weekend.

Taylor Made's Tour Manager, Sean Brady, recently told me that their Tour technicians had been doing some intensive custom-fitting for Clarke.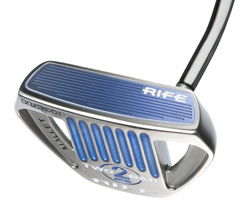 Rife 2-bar hybrid putter




"Darren is a fantastic driver of the ball, but he was looking for a little more distance,"Brady revealed. "We worked on each element of his launch conditions, first trying to improve his ballspeed with a slightly longer and lighter shaft. We also raised his launch angle from 10 to 12 degrees, and got the spin down on the TaylorMade TP Red LDP ball to his ideal level of around 2,500 rpm."

The fine-tuning certainly paid off and Clarke's emotionally-charged winning 30-footer was drained with a Scotty Cameron by Titleist Red X putter.

A few hours later, his fellow Queenwood Golf Club member Adam Scott also sunk a similarly outrageous 48-footer with his Titleist Newport Midslant Prototype putter to win the Byron Nelson EDS event om the PGA Tour.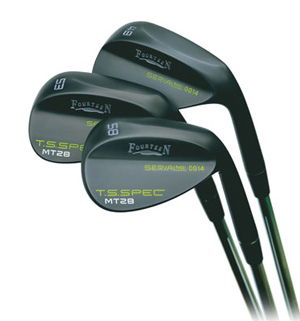 Trio of wedges priced at £499




Another putter brand on the radar recently is Rife. Andres Romero won on the PGA Tour in New Orleans and finished 8th at the US Masters using a similar Barbados mallet model to which Justin Rose sealed the European Tour Order Of Merit last season.

It complements Rife's big impression on the Champions Tour, with wins already from, among others Dennis Watson and Bernhard Langer.

Rife was high profile at the London Golf Show, with models that variously sport grooved faces, adjustable weighting and adjustable aluminium hosels. The distinctive Hydrid 2-bar mallet is an example of the latter. Slide the putter-head into a bracket, supplied with the club and bend the hosel (with brute force) to the required lie-angle to match up the alignment line for your particular posture.

Close by, newly-launched Made In Japan was debuting its beautiful forgings from premium brands like Royal Collection, YuRuRi, Crews and Fourteen - all of which regularly top the club counts on the Asian Tour.

I fell for Fourteen's MT-28 TS Spec wedges, 'forged from nickel-chrome molybdenum with durable, high-spinning, precision-milled Mirror grooves.' Just ten of these limited edition sets of wedges are earmarked for the UK and will set you back £499.