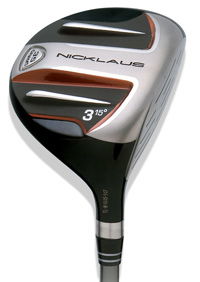 Nicklaus Claw FW
Hot on the heels of its Claw hybrid, announced in March, Nicklaus Golf is introducing the Claw fairway metal, which it claims will cut through the rough with less resistance and sole drag to get the ball airborne more efficiently.
The clubs - in four different loft options - feature 'dual point technology', scooping out the sole and creating a centre runner and stabilising rails to reduce contact with the turf but retain stability.
Designer Clay Long, says: "It creates less drag through impact and allow the clubhead to stay online more easily."
The Fairway Claw is offered in a strong 3 (13 degrees of loft), 3- (15), 4- (18) and 5-wood (22) options for right-handers with 3- and 4-woods also in RH offset and for left-handers. There are two different shafts and upto four separate flexes and a recommended price of £129.99 per club.
Are you using fairway metals or hybrids, or a combination of both? What do you use and what advice can you give to those considering a switch to clubs to play on or off the fairway? Tell us on the forum.
If you want to add a club into our review system to help other potential purchasers, click here.