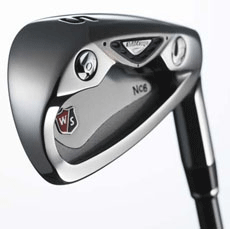 Wilson Staff Nc6 iron with variable weighting
Wilson Staff has turned back the technological clock more than 30 years to produce a refined version of variable weighting in its latest Nc6 series of irons.
It was in the early 1970s that the company introduced its state-of-the art Dynapower irons. Now the same proven system has been updated using the latest materials to create what Wilson Staff describes as 'the most superior and technically advanced iron,' delivering 'balance, control and spin.'
After extensive play-testing in Japan, the clubs will be introduced to the UK in May, with a hosel insert and three L-pods in the clubhead of different weights to improve custom fitting.
The oversized stainless steel cast head has a deep, undercut cavity and wide sole with a TPU insert in the hosel combined with either tungsten (heavy), steel (neutral) or duralumin (light) pods behind the head to suit players of all abilities.
"The Nc6 series of irons is by far the most technically advanced iron we have ever offered," says Wilson Staff's Doug Wright. "By shifting weight in the clubhead, we've created our most balanced iron. "
The clubs also feature a UST Proforce V2 shaft (regular or stiff) and will be available in May in sets of 4-iron to sand wedge at a recommend cost of £699.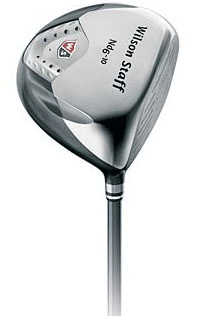 Wilson Staff Nd6 driver
The entry of the irons is shared with the launch of the latest Wilson Staff Nd6 460cc driver, with its ETF technology first introduced in the DH6 hybrid last year and with a larger than ever 'hot zone' in the face.
The three-piece clubhead combines a nano-carbon crown, tungsten nickel sole weight and titanium V-frame and face) for strength and consistency. A tungsten nickel sole insert also helps improve launched trajectory.
Adds Wright: "We know how much importance golfers attach to the feel and sound of a new driver, so our research and development team has included a series of raised 'ribs' inside the head to dampen vibration and create a crisp sound on impact.
The Nd6 driver with be available in May with a Graffaloy Comp NT (regular or stiff) and Golf Pride Dual Durometer grip. Loft options are 9,10 and 11 degrees with a recommended price of £229.
*Tell us about the clubs in your bag - as well as the balls, shoes, waterproofs – by submitting a user review.