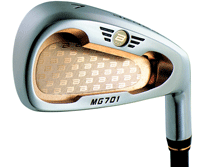 Honma PF irons
Japanese manufacturer Honma, makers of the world's most expensive set of golf clubs - a unique gold and platinum-plated set of irons and woods worth £30,000 have this month launched their new UK range for 2006.
Don't be fooled into thinking that the price - £3,823 for a set of 8 MG710 irons in the Beres range means they are only aimed only at scratch and single figures golfers earning 'tour money'. The range includes clubs built for the better and higher handicap player. The TW range and the MG range respectively.
Commented Honma's Steve Kettlewell "We are delighted to launch the Beres range, which will make supreme quality clubs available to all standards of golfer"
The TW range includes the classically designed 901 irons (£1,880 3-10 iron) manufactured from a soft steel which maximizes the feel in the hands. A Carbonium composite headed, titanium faced 911 423cc driver (£734) and a selection of fairways woods (£359, 3 to 9 wood).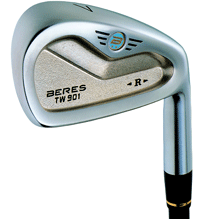 Honma PF irons
The MG range consists of the 701 cavity back irons (£3,823 3-11 and SW) featuring a wide sole, low centre of gravity and larger than average sweet spot. Complimented by the 711 455cc driver (£989) and fairway woods (£479 - 3, 5, 7 and 9 models).
Interestingly, Honma are one of the very few manufacturers who produce and equip their entire range with its own shaft and heads. The ARMRQ B49 graphite shaft is optional on all clubs as is a regular steel shaft option.
While the woods are sleek and uncomplicated, both sets of irons show subtle refinements and caringly designed cavity inserts.
Also available are Honma's new tear-drop and classic shape wedges, produced in varying lofts between 50-60 degrees and bounce angles from 6-13, and look out for Honma's most luxurious ever set of clubs.
A set of ten Twin Marks 504 '5-Star' irons and three Twin Marks 425 '5-Star' metal woods, as seen on the BBC National Lottery 'Millionaire Manor' show on Saturday 7 January 2006.
Further information about the Beres range and other Honma products is available at www.honmagolf.co.uk