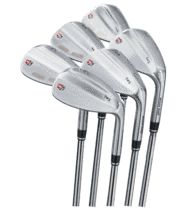 Wilson Staff wedges can bite!
Padraig Harrington's equipment makers, Wilson Staff, are issuing warnings with the sales of its latest Wilson Staff Tw5 Tour wedges – that they may bite!
The Irishman played a couple of miraculous chips from greenside rough with his 58 degree Tw5 lob wedge on his way to winning the Honda Classic on Sunday, which caused TV commentators to suggest that the grooves on his clubs might not be legal.
Though the grooves on Harrington's club are deeper standard wedge with steeper walls (32.5 degrees against a standard 42.5) they fall within the limits set down by the authorities.
However, the Wilson Staff Tw5 Tour wedges are so effective, they could scuff the covers golf balls, which has led the manufacturers to issue stickers with the clubs warning that if they want to emulate Harrington's performance with the 58 and 52 degree (Gap) wedges he carries, they might risk damage to their golf balls.
"These new wedges were designed under Padraig's supervision and he has just shown what can be done with them in tournament play," said Doug Wright, business director for Wilson Golf in Europe. "There is a lot of interest from club golfers in the wedges and we want to warn them that they do bite."
Wilson Staff Tw5 wedges are available from leading golf stockists at a recommended price of £69.99.