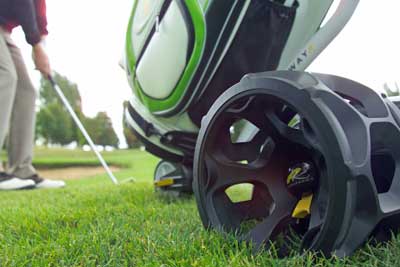 New Winter wheel by PowaKaddy
  Chances are your local course has been suffering under the recent deluge and maybe even borderline playable. However, if it hasn't suffered a trolley ban but you still need grip to make those gradients, PowaKaddy has revealed its latest solution to keep you moving.
The leading brand in powered trolleys has developed what it describes as 'a ground breaking new winter wheel solution' to help its customers keep playing golf through the winter months.
Because of potential turf damage, greenkeepers have been reluctant to allow regular smooth-tread trolley use in certain wet, wintery conditions where the wheels slip and cause muddy tracks. So PowaKaddy engineers have been working with the British and International Golf Greenkeepers Association's (BIGGA) advisory panel of head greenkeepers and course managers on a new and acceptable design.
The new 'open tread' evenly distributes the load over a smaller surface area avoiding compacting and denting, says PowaKaddy. Highly durable, Winter wheel allows minimal ground contact, and penetration, while maintaining traction to avoid slipping. The small crown on the front and rear of the tyre reduces dragging while turning without loss of traction.
Commenting on the new Winter Wheels, Simon Homer, PowaKaddy's sales director ,says: "Winter golf has always been a challenge and along with the help and advice of experienced greenkeepers we have developed a solution and seen a large take up with golf course rental fleets. We hope to see the same response in the general consumer market."
With its quick release mechanism, the Winter wheel can be fitted any PowaKaddy electric trolley (from the year 2000 models onwards) distance and speed functions needing to be modified.
PowaKaddy's Winter wheels are available now in limited numbers and will retail at £64.99 per pair.