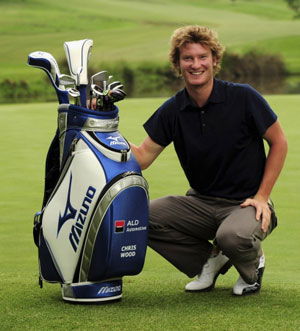 Chris Wood has singed for Mizuno
Luke Donald has another top Englishman alongside him in the Mizuno stable, now that the Reading-based club-makers have signed the talented 2009 European Tour Rookie of the Year, Chris Wood.
Wood (22) from Bristol turned pro after finishing tied 5th at the 2008 Open Championship at Royal Birkdale and after missing out by a shot from the play-off at the Turnberry Open last July, is regarded as one the game's finest prospects.
He has remained independent from any equipment commitments, but since using a combination Mizuno MP-62 and MP-68 irons has decided to sign for the Japanese manufacturer.
Says Andy Kikidas, Mizuno's Tour operations manager: "It was important to us that Chris was comfortable playing our irons before we discussed a contract. We sent a set of MP-62s and MP-68s for him to try back in September and he ended up using the MP-62s with their slight cavity, 3- to 4-iron and the purer blade MP-68 from 5-iron to pitching wedge. He found that it gave him a nice balance of shot-making through the set with just a touch more forgiveness in the longer irons.
"Like most younger players, Chris is used to updating his equipment as technology develops, so there's the added benefit that Mizuno runs the official European Tour workshop, which will be at every mainland European tournament For his equipment it will be a work in progress.
Six-foot-five Wood, who has Padraig Harrington's and Niclas Fasth's former caddie Dave McNealy on his bag, revealed: "I hadn't played Mizuno irons until the workshop made me two sets to try and I was very impressed. I could have put either set straight into play out of the box but decided to split them.
"The Tour is still new to me, so having Mizuno's experience to call on will be a big help. They can really add something to my game."
As well as Donald, Wood is joined as Mizxuno Tour staff by Jonathan Byrd, Taichi Teshima, Jeff Overton and Daniel Vancsik.