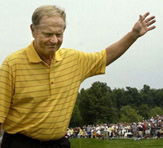 Nicklaus: Ask me a question
Jack Nicklaus, arguably the world's greatest golfer of all time with 18 major titles to his name, is back in the UK next week to unveil three signature courses currently being built in a Polaris World development in Murcia, Southern Spain.
The Golden Bear won three Open Championships – the first at Muirfield in 1966 and the others at St Andrews in 1970 and 1978 – and is set to make his final appearance at the Home of Golf in July.
He is recognised as one of the finest course designers of the last 30 years and the Polaris World development will showcase 'the Bear's Best' holes including previous projects at Castle Pines, Muirfield Village and PGA West as well as holes from Gleneagles in Scotland.
Golfmagic members have been given a once in a lifetime opportunity by Polaris World to ask Jack Nicklaus a question about his career, either as a player or a course designer - and we didn't want to pass up the chance to get up close and personal with the game's greatest living golfer.

So tell us on the forum what you would most like to ask Jack Nicklaus if you met him,- even for a fleeting moment - in the pub, on the street or at your local course.

Perhaps you'd want to know what motivated him as a boy, or who influenced him most in his early career. Maybe he could give you a tip to take your own game to the next level or say what he really thinks about the new crop of millionaire golfers he himself inspired.

It's a golden opportunity to ask Jack Nicklaus about what makes him tick.

We'll pick the best questions, put them to the great man on your behalf and report back next week.