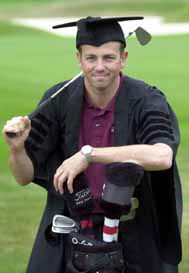 Joanthan Wright.
If you had thought that a career in golf had maybe passed you by, Jonathan Wright is the living proof that at 33 there's still a chance to make an impression in the professional game.
This former Lloyds TSB bank manager from North London has been accepted for a three year tilt at an honours degree in Applied Golf Management Studies at Birmingham University which can lead to a new status as a member of the Professional Golfers Association.
Despite 14 years in banking he'd got his handicap down to 3.4 at Cotgrave Place Golf Club near Nottingham – low enough to qualify as one of the student applicants among hundreds who applied for 26 places.
Other candidates came from as far as Japan, Australia, Thailand, Russia and the United States.
"I'd always been a keen golfer, but after being at the bank since I was 19, I thought I'd spend the rest of my life there. But when I heard about the degree, I knew it was what I wanted to do," said Jonathan, who agreed that bankers were often accused of spending too much time on the golf course.
"I'm not as fit as some of the younger students but I've got a head start on the business management aspects of the course," he added.
"Becoming a club pro is certainly a possibility, but I might look into club management. I've got a couple of years before I need to start making up my mind, so for the moment I'm just going to enjoy not sitting behind a desk all day."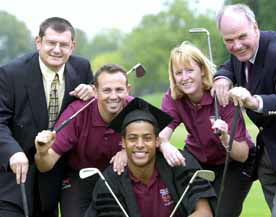 Students and tutors.
Other students on the course include James Bell (18) from Tandridge, who rattled up four straight As in his 'A' levels and Zoe Humphris, a three handicapper from Middleton Cheney near Banbury, who wants to eventually coach in Ireland.
Kiin Yang, a 24-year-old Korean who also excels at the cello, hopes his future will lie on the pro circuit, but is also keen to brush up on his coaching, just in case he doesn't become the next K J Choi.
The student who's closest to home is 21-year-old Adam Mason from Bromsgrove, a member of Kings Norton GC who already has a Business Studies degree from the University of Surrey and graduated this year.
Adam (handicap 1.9) views a second degree in golf as a unique opportunity to combine his marketing and business knowledge with a golfing slant and relishes the opportunity to play as a pro.
PGA chief executive Sandy Jones hopes the radical project will help ensure that talented players anxious to begin their career with an academic grounding will no longer be lost to the professional game.
"The standard of European golf professionals is already impressively high, but this degree will provide future professionals with an even greater range of qualifications. It will also give those determined to make the transition from amateur status to full-time professional a greater chance of success," he says.