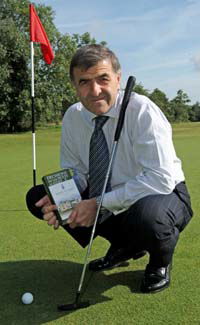 Ian Pattinson –BBC's king of the Rule book
Ever noticed how television cameras tend to shy away from possible controversy, when professional players start calling for a referee's ruling?
Rather than risk the embarrassment of players not knowing procedures or allowing viewers to witness a transgression, the director tends to cut to another part of the course while the ruling is cleared up.
Television has obviously taken some flack for its nervy coverage, so it's no surprise that the BBC has again hired rules expert Ian Pattinson, former chairman of the R&A's Rules committee, to sit alongside its panel of commentating ex-players to help clarify certain situations for the viewing public.
Pattinson was responsible for reviewing and signing off the current volume of the Rules of Golf which are used worldwide. He is also a family law specialist and partner at Hewitsons solicitors in Cambridge.
He says: "When a rules infringement occurs, you not only have to know the rules, but also need to consider previous decisions established by precedent. No two golf courses are the same and yet the rules have to be applied equally and fairly, whatever the conditions and wherever in the world that course may be.
"My role in the commentary team is to provide quick analysis of the implications of any possible infringements and the likely outcome as it unfolds."
Pattinson will be stationed in the commentary box for eight hours a day for all four days of The Open where he will join other members of the team including Peter Alliss, Sam Torrance, Mark James, Ken Brown and Wayne Grady.
"The producer gives instructions through one ear of the headphones and I receive the comments of my colleagues in the other. I also hear any conversations taking place between the rules officials on the course who accompany each of the 52 groups on the first two days.
"This means I get only a few seconds notice before having to give an opinion on an incident. This can be quite challenging and certainly puts me on my mettle to get it right."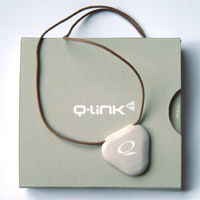 Updated Q-Link pack
Q-Link pendant wearers believe they have found the missing link to staying focused to win on Tour and at least three will be wearing it to help his Open performance.
Newly-crowned European Open champion Kenneth Ferrie, says Q-Link helped him stayed calm when all around lost their heads to take the title dramatically at The K-Club. He claims it enhances his game both physically and mentally.
His win follows closely on the heels of the maiden Tour victory by Gonzalo Fernandez-Castano, another Q-Link convert, at the KLM Dutch Open.
Said the Spaniard: "I felt the pressure because there is a big difference to the amateur game but thanks to the Q-Link pendant, which I started wearing at the British Masters, I stayed focus and had some good up-and-downs."
Americans Ted Purdy and Fred Funk, respective winners of the Byron Nelson Classic and Tournament Players Championships this year, will also wear Q-Link pendants at St Andrews.
Says Purdy: "I began wearing Q-Link about three months ago. Since then I have focused with greater clarity and have performed better under pressure at all times on the golf course. Q-Link played a big role."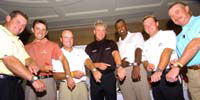 Audemars Piquet golf ambassadors this week
Swiss watch-makers Audemars Piguet has reinforced its commitment to golf by forming the AP Golf Ambassador team which includes Nick Faldo, Vijay Singh, Darren Clarke, Miguel Angel Jiménez, Lee Westwood, Graeme McDowell, Thomas Levet and Charl Schwartzel
The players met at The Open this week to announce the launch of theThe Audemars Piguet Golf & Yachting Trophy, when clients will get to meet golfers and yachtsmen at special events around the world.
Audemars Piguet are also co-sponsors of Alinghi, which defends its America's Cup yacht race in Valencia in 2007.