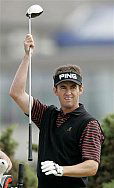 Mark Hensby – my tip
The world's best two golfers Tiger Woods – 2005 Masters and Open champion and Vijay Singh (defending champion) are hot favourites to contest the closing stages of the final major of the year, the US PGA at Baltusrol this weekend.
Stating the bleeding obvious I may be but in the hot, steamy New Jersey boiling pot that will be the famed Lower Course on Sunday, mark my words there'll be an Aussie in pursuit.
And 'mark' is the key to this outrageous statement because I believe Mark Hensby, so consistent in this year's other majors – including fifth in the US Masters and third in the US Open - could be an outsider capable of stepping up to the next level.
He made an impressive start at The Open before stumbling and showed his class and his mettle when he hauled back a two-shot deficit with two holes to play to tie Henrik Stenson in the recent Scandinavian Masters. He then took the title in a play-off.
He plays the game with an permanent smile and could be just the player to follow the surprise victories by his fellow countrymen in this event – Wayne Grady in 1990 and Steve Elkington in 1995. Ten years on Hensby, paired with two other straight-hitters, Ireland's Paul McGinley and American Scott Verplank, could come waltzing home a winner.
Though now passed 50, another Aussie Greg Norman, who was lost to Bob Tway in the 1986 US PGA, could still pose a few questions of his playing partners Tiger Woods and US Open winner Michael Campbell. Now fully recovered from back surgery, he's got canny Scot Davie Renwick on his bag these days and will be determined to make the most of his special invitation.
But what of the Britons? We're better represented than ever before, though a handful of Steves - Gallacher, Webster and Dodd – will merely see the cut line as an achievement in their first major outside the UK.
Don't expect too much from Colin Montgomerie, recovering from bruised fingers or Darren Clarke. Sadly I believe they're destined never to achieve that major victory. Lee Westwood, however, is well rested and keen to make an impact.
Much has been written and spoken about Luke Donald's potential to reach the very top and this may be his best chance of achieving it on a course that demands patience and accuracy. He's cool under pressure and in the stifling heat that may be just what's needed. The same applies to Retief Goosen.
With Els out injured, Woods and Singh will be favourites but Hensby might just be the player who continues the run of recent one-major wonders - like Brooks, Love, Toms, Beem and the unforgettable Shaun Micheel.
First and Second round pairings
Thursday, first hole – Friday,10th hole (for UK times add four hours):
0715– 1220 Craig Thomas, Jonathan Kaye, Arjun Atwal (India); 0725 - 1230 Thongchai Jaidee (Thai), Bob Ford, Charles Howell III; 0735 - 1240 Richard Green (Aus), Thomas Levet (Fra), Tim Herron; 0745 - 1250 Ian Poulter (Eng), Mark Calcavecchia, Jerry Kelly; 0755 - 1300 Jeff Maggert, Shigeki Maruyama (Jap), Rod Pampling (Aus); 0805 - 1310 Hal Sutton, Rich Beem, Bob Tway; 0815 - 1320 Mike Weir (Can), David Duval, Ben Curtis; 0825 - 1330 Tom Lehman, Scott McCarron, J.L. Lewis; 0835 - 1340 Steve Elkington (Aus), Shaun Micheel, Mark Brooks; 0845 - 1350 Fredrik Jacobson (Swe), Craig Parry (Aus), Kevin Na; 0855 - 1400 Vaughn Taylor (Aus), Bernhard Langer (Ger), Andre Stolz (Aus); 0905 - 1410 Steve Flesch, Rich Steinmetz, Tom Pernice; 0915 - 1420 Chris Starkjohann, Tim Weinhart, Chip Johnson
Thursday, 10th hole-Friday, first hole:
0715 - 1220 Joe Durant, Billy Andrade, Mark Mielke; 0725 - 1230 Loren Roberts, Ron Philo Jr, Stephen Dodd (Wal); 0735 - 1240 S.K. Ho (S Korea), Nick Dougherty (Eng), Scott Spence; 0745 - 1250 Jim Furyk, Colin Montgomerie (Sco), Angel Cabrera (Arg);0755 - 1300 Ted Purdy, Trevor Immelman (S Africa), Toru Taniguchi (Jap); 0805 - 1310 Chris DiMarco, Jose Maria Olazabal (Spain), Justin Leonard; 0815 - 1320 Fred Couples, Darren Clarke (NI), Shingo Katayama (Jap); 0825 - 1330 Tiger Woods, Michael Campbell (NZ)), Greg Norman (Aus); 0835 - 1340 Stewart Cink, Luke Donald (Eng), Robert Allenby (Aus); 0845 - 1350 Paul Azinger, Jeff Sluman, David Toms; 0855 - 1400 Zach Johnson, Padraig Harrington (Ire), Peter Lonard (Aus) 0905 - 1410 Niclas Fasth (Swe), Bob Estes, Tim Fleming; 0915 - 1420 Lucas Glover, Maarten Lafeber (Hol), Jeff Martin.
Thursday first hole – Friday 10th hole:
1220 - 0715 Michael Allen, Tim Thelen, Henrik Stenson (Swe); 1230 - 0725: Travis Long, Bo Van Pelt, Brett Quigley 1240 - 0735 Brian Davis (Eng), Jason Bohn, Sean O'Hair 1250 - 0745 Kenny Perry, Carlos Franco (Par), Fred Funk; 1300 - 0755 Paul Casey (Eng), Tim Clark (S Africa), Geoff Ogilvy (Aus);1310 - 0805 Sergio Garcia (Spain), Adam Scott (Aus), Phil Mickelson; 1320 - 0815 Rory Sabbatini (S Africa), Brad Faxon, Graeme McDowell (NI); 1330 - 0825 John Daly, Vijay Singh (Fij), Davis Love III; 1340 - 0835 Stephen Ames (Can), K.J. Choi (S Korea), Ryan Palmer; 1350 - 0845 Lee Westwood (Eng), Retief Goosen (S Africa), Todd Hamilton; 1400 - 0855 Peter Hanson (Swe), David Tentis, Stephen Leaney (Aus); 1410 – 0905 Stephen Gallacher (Sco), Kelly Mitchum, Billy Mayfair; 1420 - 0915 Don Berry, Chris Wiemers, Alan Morin.
Thursday, 10th hole-Friday, first hole:
1220 - 0715: Hunter Mahan, Brett Melton, Steve Webster (Eng); 1230 - 0725 Greg Owen (Eng), Darrell Kestner, Yong-eun Yang (S Korea); 1240 - 0735 Miguel Angel Jimenez (Spain), Jay Haas, Chris Riley; 1250 - 0745 Woody Austin, Bart Bryant, Stuart Appleby (Aus); 1300 - 0755 Wayne Grady (Aus), Larry Nelson, Mike Reid; 1310 - 0805 David Howell (Eng), Nick O'Hern (Aus), Joe Ogilvie; 1320 - 0815 Thomas Bjorn (Den), Chad Campbell, Arron Oberholse; 1330 - 0825 Brent Geiberger, Alex Cejka (Ger), Tim Petrovic; 1340 - 0835 Paul McGinley (Ire), Mark Hensby (Aus), Scott Verplank; 1350 - 0845 Lee Janzen, Jesper Parnevik (Swe), Pat Perez; 1400 - 0855: Mike Small, Ben Crane, Dudley Hart; 1410 - 0905 Jean-Francois Remesy (Fra), John Rollins, Steve Schneiter; 1420 - 0915: Jeff Yurkiewicz, Rob Moss, Jeff Coston.