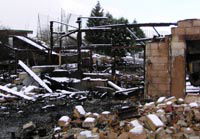 Oaks clubhouse - destroyed
Less than 48 hours after fire ravaged its pro shop and clubhouse, The Oaks Golf Club in Carshalton, Surrey has re-opened for business.
Among the silverware destroyed by the fire was the Mary Forster Bowl, a national competition trophy awarded by the National Association of Public Golf Courses, which was won by the Oaks Ladies team last year.
Other memorabilia, photographs and administrative records were also destroyed in the fire at which 45 fireman attended in Woodmansterne Road and the 600 members are being asked to contact the club to identify themselves so their records can be reinstated.
No one was injured in the fire.
Catering manager Jenny Brayshaw is also trying to trace those who have booked functions in the popular Oaks restaurant.
"The course is unaffected and as soon as the snow clears we shall be open for play," says proprietor Geoff Horley.
"We are operating out of the squash courts – fortunately they were undamaged - and we shall also be able to offer golfers basic catering facilities by the weekend. Mobile buildings are being installed today to provide temporary office and administrative accommodation."
The famous classic horse race 'The Oaks', run annually at Epsom Race Course, was named after the original manor house built on the property and one of the later owners, the 12th Earl of Derby, gave his name to another Classic race.
The golf courses opened in 1973, and both the 18 and 9-hole have matured and pose a real challenge to golfers at every level. The club is hoping that members and visitors will rally round to reinstate the honours board and photographs lost in the fire.