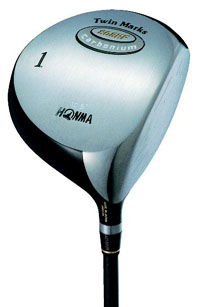 Honma 808RF Carbonium driver
Price: £811
With its 'carbonium carbon' crown, this driver was reminiscent in looks and performance of the Yonex Cyberstar Brid 400 launched last year.
The distinctive crown makes it one of the best looking clubs I've ever seen at address – definitely more Clarence House than Coronation Street.
But a driver is all about performance and price and for £800, I found it tough to get airborne despite its 10.5 degrees of loft.
I'm already a low ball hitter and this tended to produce a lot of worm burners, which in winter conditions tend to leave you a long way back with your approach yardage.
The publicity surrounding the club describes it as producing a 'powerful, accurate and low trajectory' but a series of 20 feet off the ground exocets? Surely not? As the Alliance and Leicester Building Society commercials say about their APR: 'Now that's low!'
Verdict

It looks very good but appearance can be deceptive and at that price its performance nowhere near matched its price tag
Golfmagic rating: 7.5/10