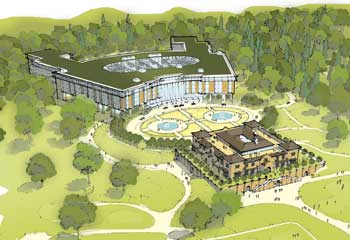 Artist's impression of The Belfry re-development
The Quinn Group, owners of The Belfry, has announced plans today for a major redevelopment of the world-famous golf and leisure venue which, when completed, will feature the only five-star hotel in the Midlands.
It will include 500 luxurious rooms and swimming pool, gym, spa and treatment complex as well as upgrading the PGA's headquarters and training headquarters.
The Belfry's golf experience - it already has three courses The Brabazon, PGA National and Derby - will be enhanced by building on the venue's established reputation as the home of the Ryder Cup in England. The Quinn Direct British Masters is due to be staged on the Brabazon course from September 20-23.
General Manager of The Belfry, Nigel Gray, said: "These proposals mark a major step forward in our aim of providing customers with a world-class experience - a unique package in an iconic location."
To ensure the development is in keeping with the heritage of the courses, there are plans for a golf clubhouse, reflecting the current ivy-clad façade of the existing hotel with a new hotel development to the rear.
Quinn says construction will incorporate the latest building technology, underground car-parking and the hotel's carbon emissions will be reduced. A planning application for the development will be submitted later in the summer, with local villages able to offer their observations.