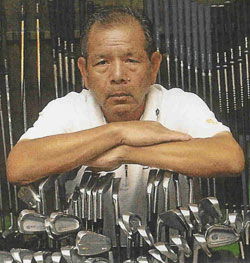 Katsuhiro Miura - founder and club-maker
I recall being only yards away in a small press enclosure beside the 18th green at Augusta National in 1991 when Ian Woosnam won his US Masters green jacket.
Afterwards, the Welshman was gushing about the quality of the forged irons he was using, which had been specially made for him and which he carried in a bag with the Maruman brand emblazoned on it.
It transpires the clubs had been individually created for Woosie by master club maker Katsuhiro Miura, founder and master club-maker for Miura Golf, who studied the meticulous forgings used in making samurai swords, and has transferred that knowledge into golf clubs.
Three years later Jose Maria Olazabal won the US Masters with a set of Miura-made irons and in 2001 Retief Goosen claimed the US Open with a set of irons made by Japan's most famous club-maker.
In addition, Titleist hired him to make limited-edition irons for Tiger Woods (when he was playing their brand), prior to moving to Nike. Mr. Miura used Titleist dies and design, then manufactured Woods' clubs using his own 14-step process.
All this has only recently been revealed through public record in the US, since moving Miura Golf headquarters to Vanvouver, Canada.
However, his prior confidentiality agreements with original equipment manufacturers (OEMs) still prevent Mr. Miura discussing the major championships that have been won with his forged clubs, even though the brands paying stars to use their equipment, hired Mr. Miura to design their clubs.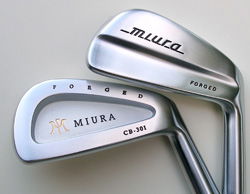 Modern Miura clubs




Miura (64) has been making forged golf clubs for 48 years. His Japan-based company, Miura Giken Co. Ltd., manufactures its own clubs which are sold in North America and Europe under the name Miura Golf. At 23, Mr. Miura founded Miura Mfg. Co. Ltd. His mastery of producing forged irons has earned him worldwide praise with the Japanese claiming he has 'God's hands'.

Miura's passion for producing only the most perfect irons requires that he avoid mass production and includes in his process a significant component of hands-on craftsmanship, including hand-weighing and balancing each club prior to shipping.

His creations are not only popular with Tour pros and low-handicap chief executives in the industry, but with average golfers who have lowered their handicaps by taking advantage of forged craftsmanship.

His clubs have also attained almost cult-like status among 'golf gear heads', who demand to be the first with the latest Miura model then reveal their passions on golf internet chat rooms - in effect the company's most effective, yet unpaid, sales force.

Golfers may have to wait 18 months to two years for a new Miura model - a far cry from modern marketing among leading brands where almost every other month reveals 'ground-breaking new technology'.

But even at more than £1,500 for a set of maybe only seven or eight irons, it's a price a growing number are prepared to pay to play personalised hand-made forged clubs.