Despite this week's Solheim Cup, Linde German Masters and Bell Canadian Open, many of the world's top players – both men and women - will have one eye and at least an ear on what's happening at The Oval.
It's the climax of the Ashes Test cricket series between England and Australia, with England poised to regain the treasured burned bails in a tiny inscribed pot for the first time in two decades.
English golfers like Lee Westwood, Simon Kahn and Ian Garbutt will all be glued to either their seats or a TV screen, while overseas stars including Aussie Stuart Appleby also have strong opinions about the game. Laura Davies and Trish Johnson will both be seeking regular confirmation of the score while competing in the Solheim Cup at Crooked Stick.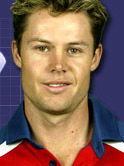 Wicket-keeper Jones
As for the cricketers, most of the England team regard golf as their favourite sport, considering professional cricket as their day (and occasionally night) job.
Indeed England captain Michael Vaughan and Westwood come from the same ISM management stable, are great mates and chat on the phone at least once a week.
"I couldn't wait for the Ashes series to start," said Westwood "I was looking forward to it big time. It has been the sporting contest of the year and I was really chuffed to be at Lord's for the first day of the first test. It was electrifying."
Vaughan's a handy ten handicap with a holiday home alongside Marcus Trethcothick at Royal Westmoreland in Barbados but according to England wicket-keeper Geraint Jones, Paul Collingwood is the man to beat on the golf course.
He says of the Durham all-rounder: "He plays off a handicap of five or six, so he's pretty useful."
As for Jones' own golfing abilities he says: "I try to play at least a round of golf whenever I get a week off from playing cricket. I mainly play with my Kent team-mates but when we're away on England tours, everyone always tries to get a few rounds in.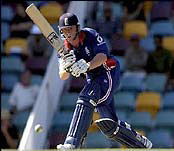 Collingwood in action for England
I'm somewhere round the 12 to14 handicap mark, but I'm trying to improve while avoiding letting bad habits from golf creep into my cricket!
As for fast-bowlers Steve Harmison and James Anderson, I'm reliably informed that it's more a case of how far rather than how many as both like to give the golf ball a good crack.
The Ashes climax will be a hard fought tussle with England defending a 2-1 advantage but the sporting rivalry on the field will be forgotten when, before the end of the Australians' Tour they will undoubtedly get the chance to settle old scores on the golf course.
And if England win the series to regain the Ashes, the tables may well be turned over 18 holes.