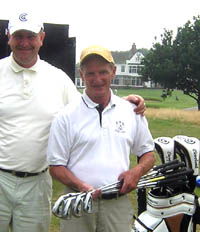 George Austin receives his prize from Cleveland's Iain Clarke
George Austin, a former publican from Rotherham, South Yorkshire, is used to practical jokers. In many years in the licence trade his customers have got up to all kinds of spoofs.
So when he received a message from 'Golfmagic' advising him that he'd won a set of £550 Cleveland golf clubs in our July competition, George and his wife Colleen thought his pals had been 'at it again.'
But it wasn't until he received a second email and a call from me that he realised the message was genuine and that he'd soon be in possession of a set of the latest Cleveland CG4 irons, his name being drawn at random from over 3,400 entrants – by far Cleveland's most successful UK competition, ever. "We both thought it was another wind-up," George told me yesterday (Monday) when we met to hand over his sparkling new clubs after some custom-fitting by Cleveland's demo expert Iain Clarke at Notts Golf Club at Hollinwell.
"We're used to practical jokes in our business, so I ignored the message until we got back from looking after a friend's pub for a couple of weeks," said George, who also aptly celebrated his 59th birthday yesterday.
The CG4s are Cleveland's first game improvement irons, made similar light-density CMM metal used in its highly prized CG10 wedges, as well as the CG1 and CG2 irons. The makers say the softer than traditional carbon steel used in cast and forged clubheads, gives the CG4s a softer feel with less vibration at impact.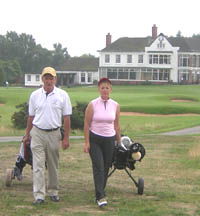 George with wife Colleen arrive at Hollinwell
After a short warm-up on the huge practice ground at the classic Hollinwell course, he received some expert tuition from Iain, chiefly on a 'shank' that had suddenly crept into his game.
Laying clubs on the ground in the shape of a cross to aid his ball position and alignment, Iain soon had him striking the ball sweetly with a sample set of CG4s.
"It's a practice method that one of our top players David Howell uses all the time. Alignment is an important key to the golf swing," said Iain a former PGA teaching pro and engineer, who now travels the world demonstrating Cleveland equipment and providing technical advice for pros at European Tour events.
And it's a good lesson for all Golfmagic members. Feet, shoulders, knees must be aligned parallel to the target to hit good golf shots. Otherwise our hands and body are forever trying to compensate.
As George, a 16-handicap member at Wath Golf Club, near Rotherham discovered, it's so easy to develop a destructive shank without warning.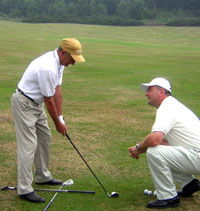 Receiving alignment tips from Iain Clarke
The lesson certainly seemed to work and there was little evidence of the destructive shot that had plagued him when we played 18 holes of the outstanding Hollinwell course, delivering an exquisite 80-yard pitch to within inches to set up an opening par.
Afterwards he said: "It has been a great day and a great experience And I'd like to thank Cleveland and Golfmagic – I couldn't have wished for a better birthday, even though I did think it was all a joke at first."
*Tell us about the equipment in your bag - clubs, shoes, balls waterproofs – by submitting a user review during September. You could win one of the packs of a dozen Srixon soft-feel balls we're giving away every month.
And if you've got equipment to buy or sell second hand you can do that too, in our popular classified section.