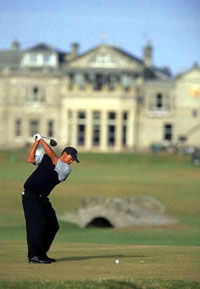 Tiger back at St Andrews in 2005




Can Tiger Woods regain his spot on the pedestal of world golf? After five years without a major men's champion, can Britain and Ireland regain its superiority over the rest of the world? Will our European women keep their combined feet on the neck of their US counterparts in the Solheim Cup?

Just some of the questions professional golf poses over the next 12 months as Woods prepares to return to St Andrews for the 2005 Open Championship and the game reaches far-flung outposts like China in search of even more sponsorship dollars.

Some of Britain's best rising stars – including Paul Casey, Luke Donald, Ian Poulter, Brian Davis and Greg Owen, will spend more time on our late-night satellite screens in search of new riches on the US PGA Tour circuit.

And that means more air time and exposure in Europe for more home bred prospects like Lee Slattery, Matthew King and Oliver Wilson from the Challenge Tour and Simon Wakefield and Stuart Manley from Qualifying School to make their mark.

On the European stage, I expect the renewed confidence of our Ryder Cup heroes to shine through with David Howell and Thomas Levet stepping up to the next level, while 2006 candidates Graeme McDowell, David Lynn and Raphael Jacquelin making their mark.

On the US Tour the familiar names of Singh, Els and Goosen will grab their share of the limelight, but settled by matrimony and the confidence of a new swing, expect 2005 to be dominated by Tiger. I can see him reclaiming at least one major and one of the world championship events held in his home state of California.

In the women's game I fear it will be riddled with scandal and politics in 2005 as player power mixes bitterly with the determination to grab more airtime especially in the US. Fans are getting bored with the same old names, as well as those they can't pronounce. The women's game needs a fresh, sexy image for a television audience.

As for the amateurs it's a Walker Cup year – this year stage on US soil – but with many GB & I prospects turning pro prematurely, it could be a time for Americans to prevail.

Sadly, we may see the eclipse of two of our best-loved heroes.

After a Stella season, Colin Montgomerie may regret his decision not to seek the captaincy of the 2006 Ryder Cup team in Dublin. Despite his single-mindedness, he'll be torn between his professional pride and trying to see his children growing up.

As for Seve Ballesteros, his marriage break up could be the final straw in his bid to recapture old glories. He's reported to be only an unkempt shadow of his former self, on and off the course, and might even prove an embarrassment in the Seve Trophy later in the year.

As for the rest of us, we'll all be trying to emulate our heroes – some with more success than others.
January

6-9 Mercedes Championship (Kapalua, Hawaii). 13-16 Sony Open (Waialac CC, Hawaii); 13-14 Open Championship S.African Final Qualifying (CapeTown). 20-23 Buick Invitational (Torrey Pines, San Diego); South African Airways Open (Durban). 25-26 Open Championship Australasian International Final Qualifying (Royal Melbourne). 27-30 Bob Hope Chrysler Classic (La Quinta); Caltex Masters (Laguna, Singapore).
February

3-6 Heineken Classic(Royal Melbourne); FBR Open (Scottsdale).10-13 AT&T (Pebble Beach); Women's World Cup (Fancourt, S.Africa); Holden New Zealand Open (Auckland).17-20 Nissan Open (Riviera); Carlsberg Malaysian Open (Saujana). 23-27 WGC Accenture World Matchplay (La Costa).
March

3-6 Honda Classic (Country Club at Mirasol); Dubai Desert Classic (Emirates).10-13 Qatar Masters (Qatar).17-20 Madeira Island Open (Santo de Serra); Bay Hill Invitational (Bay Hill, Orlando).24-27 Players Championship (Sawgrass); Kraft Nabisco (Mission Hills).31-April 3 Bellsouth Classic (Sugarloaf); Portuguese Open (TBC).
April

6-7 Open Championship Asian International final Qualifying (Saujana). 7-10 US Masters (Augusta National);13-14 Peter McEvoy Trophy (Copt Heath).14-17 Heritage (Hilton Head); Open de Espana (TBC).21-24 Houston Open (Redstone); Johnny Walker Classic (Pine Valley, Beijing).23-24 Women's Scottish Open Strokeplay (Troon). 28-May 1 BMW Asian Open (Shanghai); Zurich Classic (New Orleans).29 Lytham Trophy.
May

5-8 Italian Open (Milan); Wachovia Championship (Quail Hollow).12-15 Byron Nelson Championship (Cottonwood Valley); Daily Telegraph British Masters (TBC).17-21 English Women's Championship (Burnham & Berrow); Scottish Women's Championship (Cruden Bay). 19-22 The Colonial (Fort Worth); Nissan Irish Open (Maynooth). 20 St Andrews Links Trophy (St Andrews). 26-29 St Jude Classic (Memphis); European Tour PGA Championship (Wentworth). 30 -June 4 Amateur Championship (Royal Birkdale).
June

1-3 English Seniors (Prestbury). 2-5 The Celtic Manor Wales Open (The Celtic Manor).4-5 Berkshire Trophy (The Berkshire).7-11 Women's Open Amateur Championship (Littlestone).9-12 Booz Allen Classic (Congressional Potomac); McDonald's LPGA Championship (Bulle Rock, Havre de Grace); KLM Open (TBC). 16-19 US Open (Pinehurst); Aa St Omer Open (Lumbres, France). 23-26 French Open (Paris National); Barclays Classic (Westchester, NY); US Women's Open (Cherry Hills, Colorado).25-30 English Amateur Championship (Bromborough); Scottish Amateur Championship (Southerness). 27 Open Championship US International Final Qualifying (Canoe Brook, New Jersey); Open Championship European International Final Qualifying (Sunningdale, The Berkshire). 28-July 2 European Men's Amateur Team Championship (Hillside, Southport).30-July 3 Western Open (Cog Hill, Lamont); Smurfit European Open (K Club, Dublin).
July

7-10 John Deere Classic (Deere Run); Barclays Scottish Open (Loch Lomond).9-10 Open Championship Local Final Qualifying (Ladybank, Leven Links, Lundin and Scotscraig).13-17 BC Open (Endicott, NY).14-17 Open Championship (St Andrews). 20-23 Evian Masters (Evian France).21-24 US Bank Championship (Milwaukee); Deutsche Bank (Gut Kaden, Germany); Senior British Open (Royal Portrush). 22-23 Vagliano Trophy (Chantilly). 28-31 Buick Open (Warwick Hills); Scandinavian Masters (Kungsangen); Weetabix British Women's Open (Royal Birkdale).
August

2-4 Boys Home Internationals (Woodhall Spa). 3-5 Senior Amateur Open Championship (Woburn). 4-7 Diageo Championship (Gleneagles); The International (Castle Pines, Colorado). 8-12 British Girls Championship (West Hill). 8-13 British Boys Championship (Hunstanton). 10-14 British Mid-Amateur Championship (Muirfield). 11-14 US PGA Championship (Baltusrol); BMW Russian Open (Moscow). 13- Walker Cup (Wheaton, Illinois). 17-19 British Women Open Amateur Strokeplay Championship (Nairn). 18-21 WGC-NEC Invitational (Firestone); Reno Tahoe Open (Montreux, Nevada). 19-21 Carris Boys Trophy (Moor Park).21-23 European Young Masters (Austria). 25-28 Buick Championship (River Highlands); BMW International Open (Munich). 25-30 English Amateur Championship (Bromborough). 26-27 Jaques Leglise Trophy (Royal Porthcawl).
September

1-4 Omega European Masters (Crans sur Sierre). 2-5 Deutsche Bank (Boston, Mass). 7-9Men's Home Internationals Royal St Georges). 8-11 Canadian Open (Vancouver); Linde German Masters (Gut Larchenhof). 9-11 Solheim Cup (Crooked Stick).14-16 Women's Home Internationals (Dundalk). 15-18 Lumber Classic (Farmington, Delaware); HSBC World Matchplay (Wentworth). 22-25 Presidents Cup (Lake Manassas, US); Seve Trophy (Wynyard, Newcastle); Valero Texas Open (San Antonio). 23-25 Men's County Finals (St Enodoc). 29-Oct 2 Chrysler Championship (Forest Oaks, Greensboro); Dunhill Links (St Andrews, Carnoustie, Kingsbarns).
October

6-9 WGC American Express Championship (San Francisco); Southern Farm Bureau Classic (Annandale). 13-16 Las Vegas Championship (Summerlin); TBC (European Tour event). 20-23 Funai Classic (Walt Disney, Florida); Mallorca Classic (Majorca). 27-30 Chrysler Championship (Innisbrook, Tampa); Volvo Masters (Valderrama).
November

3-6 PGA Tour Championship (East Lake, Atlanta).14-20 WGC World Cup (Victoria, Portugal).
December

8-11 Target World Challenge (Sherwood, Calif). 15-18 Wendy's 3-Tour Challenge.