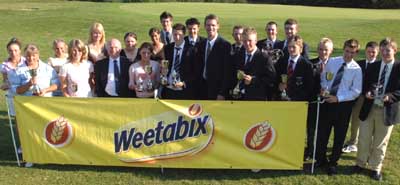 Finalists in the 2005 championships
The launch this week of the Golf Foundation's Junior Championships fails to disguise what appears to be a deep-seated disapproval at many golf clubs of our next generation of champions.
Lee Westwood, Justin Rose and Mhairi McKay are among those who have risen to the dizzy heights of world golf thanks to the springboard given them by these championships but there are still clubs who regard their under 18s as an unnecessary irritant.
We're fortunate in the UK in that the vast majority of courses welcome and encourage youngsters to take up the game and improve through practice and competition. They're also happy to share in the reflected glory of a junior making giant strides to a higher county or national level in events back by the Golf Foundation.
Indeed the thriving junior section at my own club is run by our club professional who organises training sessions and along with parents helps transport the kids to matches.
However, there are still those clubs and influential members who dislike the idea of junior members – able to devote their spare time to playing - mopping up the prizes in adult club competitions.
One Golfmagic member – a 17-year-old nine handicapper whose name I have chosen to withdraw through possible fear of reprisal from his home club – wrote to me this week obviously distraught with the treatment his club has meted out.
"I have recently been made junior captain at my golf club in Kent and I am very sad to say that it shows little respect towards juniors. The club always seems to frown upon a junior victory," he told me.
"I'm not saying that in men's competitions juniors have rights over everyone but when I see that a junior has shot a gross 72, under full handicap, against all other adult players and in the same conditions but has not been given the medal which adults get, I feel that juniors are getting a bad deal."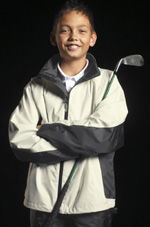 ProQuip junior suit




He says that as a result talented fellow junior members with single figure handicaps are tending to lose interest in the game.

"I'm not complaining about club rules but if there is anyway that this could become an issue made more aware to club officials, I'm sure other fellow junior golfers, suffering similar discrimination, I would be grateful."

Tell us on the forum if your club has a junior section and if the club fully supports it. Alternatively if your have come up against discrimination towards juniors but be certain of your facts before you name and shame.

Around 5,000 boys and girls will be hoping to take their first tentative steps towards golfing stardom in the Golf Foundation Championships, which start with club qualifying in April and May, leading to regional finals and a climax at the Marriott Forest of Arden Golf on August 15/16.

Formerly sponsored by Weetabix, the championships are an age group scratch event for juniors under 13, 14 and 15. Players in the regional and grand final, will tee up with Titleist NXT balls while ProQuip will supply a junior rain suit to each section winner.