Imagine the scenario: Husband sneaks out of the house at first light to keep an appointment with three pals at his local course. He's worried his wife might not have approved of his subterfuge and plays poorly, fearing that when he gets back he'll have to 'face the music.'
It's a scene repeated around the world when this game gets hold of us. Sometimes we just can't help ourselves, prepared to suffer the consequences if we don't get out weekly golf 'fix'.
However, researches at Exeter and Bangor Universities have discovered that if you want to make the most of your golf game - better make sure that you've got the full support of your family and friends behind you. Without it you'll never achieve your potential.
Sports psychologists conducting the survey claimed to have have proved that the emotional backing a golfer receives off the course is directly linked to the quality of his or her performance on it.
In the Journal of Sports Sciences (January 2007) and from the findings of a study involving 117 amateur male golfers, the level of support that a golfer received in their personal lives was measured against the quality of their game. The research showed that the performances of those with higher levels of emotional support were better by up to 24 per-cent.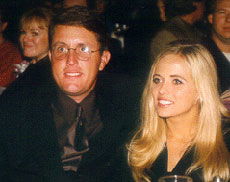 Mr and Mrs Mickelson - 'moral support'




'We often speak of the 'moral support' that sportsmen and women get from their friends and families, which helps their performances. Perhaps, then, it's not surprising that golfers benefit from good social networks off the course,' said Dr Tim Rees of the School of Sports and Health Sciences at the University of Exeter. 'What was surprising to us was the extent to which this affected their performance. The day-to-day quality of their relationships has far more of a bearing on golfers' than I had anticipated.'

The research team also examined the level of esteem they got from personal relationships as well as measuring the help players got with advice or guidance. They then examined how these benefits affected the technical quality of the players' rounds of golf.

While the effects of anxiety and stress on sportspeople are well researched, the benefit of social support on performance is a relatively unstudied area. After all, we've seen how WAGs (wives and girlfriends) can influence footballers in the World Cup and cricketers competing for the Ashes!

Tell us on the forum, what kind of support you get from your family and friends for your golf. Has it ever caused friction? What was your biggest deceipt involving golf?