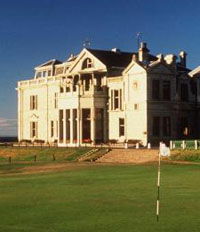 Old Course at St Andrews – the 2005 Open venue
A combination of new technology and player fitness has combined to force the hand of the R&A to increase the length of the Old Course at St Andrews – venue for next week's Open Championship – by 164 yards.
Five new tees will be used to stretch the overall length to 7,279 yards with the par-5 14th increasing to 618 yards – the longest hole on the major championship rota.
Tiger Woods won the Millennium Open in 2000 with a record 19-under-par score of 269 but the organisers expect the changes may reduce the chances of that score being beaten.
The changes are:
2nd hole (par-4, 435 yards, Dyke) - tee moved back 40 yards to the right using part of the Himalayas putting green. Brings Cheape's bunker into play.
4th hole (par-4, 480 yards, Ginger Beer) - additional 16 yards forces choice of line to left or right of central mounds.
12th hole (348 yards, par-4, Heathery in) - An extra 34 yards will bring hidden fairway bunkers back into play.
13th hole (465 yards, par-4, Hole O'Cross in) - Carry over Coffins bunkers extended from 250 to 285 yards.
14th hole (618 yards, par-5. Long) - Extra 37 yards brings the Beardies bunkers and Hell bunker back into play and increases the right-hand out-of-bounds threat over the low wall running the length of the hole.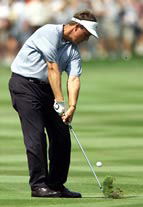 Phil Mickelson – up for the challenge
World No.4 Phil Mickelson, competing in the Scottish Open at Loch Lomond this week, said the changes have made the Old Course more challenging after a couple of recent practice rounds.
"The course is playing the way it was supposed to play years ago," said the left-hander. "A lot of bunkers that were not in play in 2000 are in play this year. They are very strategically placed. The alterations have made many holes more challenging and difficult.
"And it's all been very well done. If you had not played the course before the new tees were built, you would never know that anything is different. It all blends in so naturally."
He added: "I'm starting to play better over here. I'm very comfortable with the bump-and-run shots needed around here and look forward to hitting each one."
The R&A's Chief Executive Peter Dawson stressed that the championship committee wants to restore rather than change the course for this year's event which starts next Thursday.
"We don't want it to become a big hitter's paradise. It isn't just for golfers who hit the ball a long way. The course has proved many times (this is the 27th time the Open has been staged at St Andrews) that it is subtle enough to provide a strong challenge. We want to re-instate the old decisions players had to make."