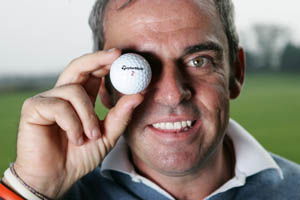 Paul McGinley with the new TP ball
The occasional glimpse in close-up of Sergio Garcia's golf ball in the final round of The Open Championship at Hoylake will no doubt have intrigued many golfers, who spotted the TaylorMade logo and a red '0' imprinted on it.
The brand has not been seen on a ball for about six years, since the TM Inergel model was replaced by a series of balls under the Maxfli brand, which is also owned by the TM company.
Garcia among several players, including Graeme McDowell and Paul McGinley, who endorse TaylorMade equipment has been using the new TP (Tour Preferred) ball – either Red or Black – for several weeks in readiness for the balls to be launched in Europe in September.
Both the TaylorMade TP Red and TP Black are three-piece balls and have been introduced at the top-of-the range end of the market to rival Titleist's Pro V1, Nike One and Callaway HX Tour.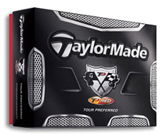 Premium-priced for a dozen balls




When they are launched, you'll pay around £40 per dozen.

TaylorMade's ball designer Dean Snell, formerly the creator of the Titleist Pro V1, says a key factor of the new ball is its Pentangular Di-Pyramid dimple design (PDP).

"Many low driver-spin balls generate too much drag, causing tee shots to drop quickly from the sky, " says Snell. "The shape, depth and edging of our PDP dimple design balances lift and drag to effectively extend the ball flight. This promotes longer hang-time, longer carry and longer distance with every club.

Another advantage, he claims is that the TP balls deliver consistent spin, trajectory and yardages throughout a set of clubs, and maintain stability in blustery conditions.

New core technology also helps generate more speed off the driver clubface, he says, which reduces spin and improves feel.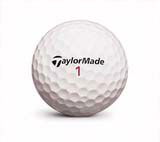 More distance, less spin




So what's the difference between the Black and Red and how will they benefit the club golfer?

TaylorMade claims the TP Red's larger core and thinner mantle promotes a low spin-rate off the driver and a slightly lower, Tour-like launch angle. The TP Black's thicker mantle, preferred by Justin Rose, encourages the ball to slide up the clubface at impact for a higher launch angle and better carry, more suited to the softer US Tour fairways.

The makers add that 'most middle and high handicappers, who play the Pro V1 and Pro V1x will get greater ball speed and carry distance out of the TP Red and TP Black.'
Equipment count at The Open

TaylorMade dominated equipment distribution, on the first day of The Open, according to Sports Marketing Surveys, leading the driver, fairway metal and irons categories among the 156 competitors.

Forty-eight players used TaylorMade driver, compared to 32 using Titleist and 23 Callaway, while 52 played their fairway woods (Callaway 35, Titleist 24) and 35 used their irons (Titleist 29, Ping 19).

Callaway head the utility clubs with 17, compared to Sonartec (15) and TaylorMade/Titleist with 13 each. Odyssey/Callaway was the most popular putter brand (47) ahead of Titleist Scotty Cameron (38) and Ping (22).

Titleist was the most popular brand of ball (106) beating Nike (17) and Callaway (15) with FootJoy the most worn shoe (85), striding in front of adidas (34) and Nike (15)