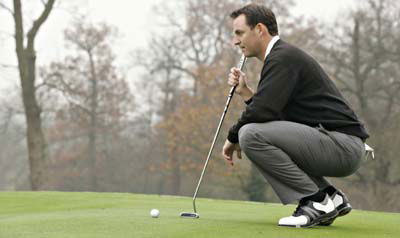 David Howell – views on equipment and psychology
David Howell's runaway five-stroke victory in the BMW PGA Championship at Wentworth on Sunday leap-frogged him from 17th into the world's top ten – and the second highest European behind Sergio Garcia (7th).
Howell's final round of 69 over the West Course gave him a five-stroke victory over fellow Englishman Simon Khan and extended his lead in the European Order of Merit and Ryder Cup table.
It's ten years since, the 31-year-old Swindon native made his debut on the European Tour, having gained his card as a +3 handicapper in the Qualifying School. He's a former British Boys and Walker Cup winner.
On his way to the practice ground on the eve of the Tour's flagship event last week, Golfmagic caught up with him to ask him about developments since he started as a pro.
How have things moved on since 1995 when you earned your playing privileges as a pro?
The equipment has been the main change. When I came out on Tour I was using a persimmon-headed driver and now I'm hitting it 40 yards further on average which is a big difference. The courses have obviously been lengthened to accommodate that.
Pro golfers seem much fitter today. Is that the reason the ball is being struck so far?
Not really. The guys have, in the main, taken on board the fitness side of things. I think people are understanding the importance of fitness perhaps more for the longevity of their career more than actually hitting the ball a long way.
There have been a lot of changes on that front (with the travelling physio unit) and the European Tour has also changed dramatically. It's quite different to how it was a few years ago.
Has your diet changed in ten years?
Not that much, to be honest. We're not Olympic athletes. People do take care to drink enough fluids and take a healthy snack on the course but I don't think too much has changed.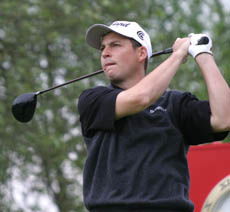 David Howell – doesn't use psychologists
Psychology and psychologists seem to be an important part of a modern pro golfer's entourage. Are they part of your team?
I agree that an awful lot of people have gone that route. I'm not one of them, personally. True it's another change that people have turned to and a lot of guys have employed them to help them achieve the goals they were struggling to reach.
Some people have employed two psychologists, others like Phil Mickelson have employed two drivers. What's your take on that?
I think Phil just put that in for the US Masters and it was a very clever move. He shapes the ball both ways and technology was there to help him do that. It was a brave move and one that paid off, obviously.
World Ranking

(at May 30, 2006) 1 Tiger Woods 16.76

2.Phil Mickelson 9.54

3. Retief Goosen 8.17

4. Vijay Singh 7.52

5. Jim Furyk 6.47

6.Ernie Els 6.10

7.Sergio Garcia 5.86

8.David Toms 5.23

9.Adam Scott 5.03

10. David Howell 5.00

11.Luke Donald 4.61

12.Jose Maria Olazabal 4.42

13.Henrik Stenson 4.21

14.Chad Campbell 4.11

15.Tim Clark 4.09

16.Stuart Appleby 3.97

17.Geoff Ogilvy 3.94

18.Chris DiMarco 3.90

19.Darren Clarke 3.80

20.Michael Campbell 3.76

Congratulations from Golfmagic forum members have been posted from around the world, while Golfmagic member Jon Grace, a student at Merrist Wood reveals how he gained a major coup by working the Wentworth scoreboards during the tournament.

David Howell used a Callie YesGolf putter with C-grooves to win the BMW PGA Championship.

The club, created by putting guru Harold Swash is a 'toe-down' blade putter with concentric grooves machined into its face. The ball is held on the face a fraction longer to improve its roll and top spin characteristics.

*Tell us about the clubs in your bag - as well as the balls, shoes, waterproofs – by submitting a user review