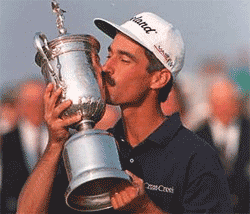 1995 U.S. Open winner, Corey Pavin
1995 U.S. Open winner, Corey Pavin, got back to winning ways at U.S. Bank Championship on Sunday in Milwaukee. The 46 year-old, whose last victory came in the 1996 Colonial shot a PGA Tour-record 26 strokes on the par-34 front nine on Thursday needing just 10 putts.
Finishing with a 9 under par 61, he added a second round 64 to reach 15 under par and tie the Tour scoring record for the first 36 holes at 125.
Pavin later accredited his victory to the return of caddie Eric Schwarz after a six-month absence. Commented Schwarz, "This is the best he's hit it in quite a long time," who carried Pavin's bag in the `95 U.S. Open. "He showed me he still has the heart and the skill to win."
Only two players, Billy Mayfair and Robert Gamez, have scored better than eight under over nine holes on the U.S. PGA Tour.
1.) 26 (-8) Corey Pavin - 2006 Milwaukee Open, Brown Deer Park. Front nine, round one.
2.) 27 (-9) Billy Mayfair - 2001 Buick Open, Warwick Hills. Back nine, round four.
3.) 27 (-9) Robert Gamez - 2004 Bob Hope Classic, Indian Wells. Front nine, round three.
4.) 27 (-8) Mike Souchak - 1955 Texas Open, Brackenridge Park. Back nine, round one.
5.) 27 (-7) Andy North - 1975 B.C. Open, En-Joie Golf Club. Back nine, first round.