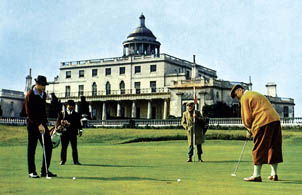 Bond and Goldfinger putt out at Stoke Park.
The 1964 film 'Goldfinger' where the villain (actor Gert Frobe) of the same name meets his match in secret agent James Bond (Sean Connery), may well have inspired me to take up golf as a 16-year-old.
In a series of memorable sequences filmed at the palace-like Stoke Park Golf Club, the pair competed over the Harry Colt-designed parkland course with 007 out-witting his rival to claim a $5,000 bet.
While the pitch-and-putt course at Cromer was hardly an appropriate place to re-create excerpts from the film, the fascination for the game stayed with me to such an extent that I have been able to make a career from writing about it.
I've even had the opportunity to play the course where the film was shot on location, in the company of jockey Mick Fitzgerald and former England cricket manager Micky Stewart and it lived up to every expectation.
Stoke Park will again be the scene on Friday, June 28 for the James Bond Celebrity Golf Classic which marks the 40th Anniversary of the first James Bond film (Dr.No) and the year of the 20th Bond film – Die Another Day.
It will also support the Ian Fleming Foundation and raise cash to extend the fleet of 4,000 Sunshine coaches generated by the Variety Club of Great Britain for sick, disadvantaged or disabled children.
Fleming, the Bond character's creator, died the year the film was released, shortly before he was to take up the captaincy of the Stoke Park Club.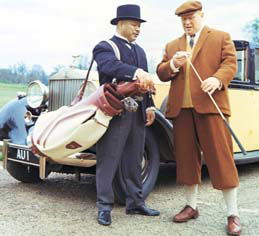 Goldfinger with 'caddie' OddJob.
Many of the Bond films' characters, including Christopher Lee, Sean Bean, Robert Carlyle, Robbie Coltrane, Honor Blackman and Britt Ekland, have been invited to attend the event alongside Jimmy Tarbuck and Ronnie Corbett, stalwarts of the Variety Club's Golf Society.
With the course just ten minutes from Pinewood Studios, where Barbara Brocoli, Michael Wilson and the production team are currently filming Die Another Day, there may also be appearances from Pierce Brosnan, Dame Judy Dench, Halle Berry and John Cleese.
There are opportunities to take part in the appropriately shotgun-start tournament as well as attend the black-tie champagne reception, dinner and memorabilia auction for a £825 entry fee (£2,500 for a team of three – with a celebrity – or four without).
It promises to be a superb and exciting day with golf and tennis clinics also available.
For further information or to book this chance to rub shoulders with the stars, contact Amanda Schwarz (email Amanda@ldacommunications.com)
What inspired you to take up golf. What do you recall of your first round. Tell us on The Forum.
Images copyright: (c) 1964 Danjaq, LLC and United Artists Corporation. All Rights Reserved.