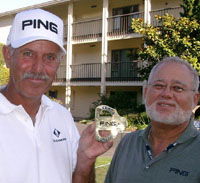 Mark James with gold putter and Ping's John Solheim
Ping has presented Mark James with an £8,000 solid gold putter in recognition of his first Senior major victory at the Ford Senior Players Championship.
The former Ryder Cup captain from Burley-in-Wharfedale near Leeds received the solid gold Craz-E replica from Ping chairman John Solheim.
James becomes one of an elite band of major winners to be honoured in this way. Ping company policy dictates that golfers who use one of its putters to win a Tour title receive a gold-plated replica, but when the victory comes in a major the recipient collects a solid gold memento instead.
Back in the 1960s, the late Karsten Solheim, the founder of the company, introduced the idea of giving gold-plated replica putters to Tour winners and some 30 years later his son John, the current Chairman and CEO, decided Major winners should receive solid gold replicas instead.
Said John Clark, managing director of Ping Europe: "Ping founder Karsten Solheim introduced the award 30 years ago and to date, we have awarded well over 2,000 gold-plated putters but the group with solid gold replicas is much more select."
James, a loyal Ping irons and putter user since his amateur days in the 1970s, became the first European golfer to win a major on the Champions Tour when he closed with a 73 to record a one shot victory at the Tournament Players Club of Michigan.
This year, Ping has handed out three solid gold putters to commemorate major successes - others went to Open champion Todd Hamilton, who used a Ping B60 putter and to Kraft Nabisco Champion Grace Park, who used a JAS Anser.
Open hero Gary Evans (35) is recovering this week after keyhole surgery on his right shoulder at the weekend. He faces at least six months away from the game but hopes the operation will save his career.
"It just got too painful and I was in danger of doing myself permanent damage," said Evans, who is based in Dubai and plans to return for the Tour event at The Emirates next March.
"Now I've got to brace myself mentally for the possibility that the operation won't go according to plan and that I might be looking for something else to do with my life."
While Evans recovers, he's helping to design a new set of irons for Olyo, whose bag he carries on Tour.