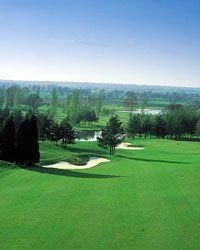 Prize venue - Hawkstone Park
Our competition requesting verbal and visible 'snapshots' of your bank holiday golf adventures produced many interesting results.
Though we were a little restricting in asking you to keep your submissions to around 100 words (most of you ignored it anyway), Paul Lockwood and his wife from Skipsea, East Yorkshire, win the first prize – a golfing break for two at Hawkstone Park, Staffordshire.
Paul (49) an ex-cricketer plays of a 12 handicap and is head teacher at a Bridlington primary school, while wife Wendy (47) teaches PE at Bransholme in Hull and plays off 34. Both are members at Hornsea.
Their tale of mixed fourball misery in the face of shocking bank holiday weather deserves a break!
Thank you to others who contributed and whose holiday memories are recalled here:
Paul Lockwood
"Way back in the early spring our regular mixed fourball sat in the bar at Hornsea Golf Club choosing our entries for the summer's Mixed Opens. They are an excellent opportunity to sample and enjoy other local courses.
"Our bank holiday selections gave us a mixed am-am at Driffield on the Sunday and a better-ball on the Monday at the rapidly improving Bridlington Links.
"Unfortunately, we were not provided with long-range weather forecasts, so we emerged wind-battered, soaked and prizeless on the Sunday with only the post-round meal to raise our spirits.
"On Monday the round started by me taking four full-blooded shots into a gale to reach the 380-yard first hole! It was Links golf at its most challenging and wrecked my swing. On the bright side the howling wind meant I couldn't hear my wife complaining."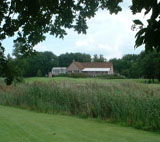 The heavily wooded Flanders Nippon Golf Club
Alan Crofts
"George, my golfing colleague must have gone to church on his way to Flanders Nippon Golf Club near Hasselt in Belgium and said a prayer for Hubert of Liege (the Patron Saint of Foresters). Never have I seen anyone hit so much wood and end up on the fairway. He even tried walking on water, to our amusement and still escaped with a damp bogey.
"I succeeded in getting my handicap cut again but was no match for his 40 points. I'm off to church next weekend to thank the Lord for not blessing George with any putting skills."
David Gee
"Currently I play off a handicap of 24.6 and have had real difficulties with my consistency - hit a great tee shot; slice my second; hit a poor tee shot then escape with a great wedge into the green.
"Reading some of the tips on Golfmagic, I made a slight adjustment to my swing plane, and on that weekend took only 41 strokes to a par of 35 at Hill Valley, Highworth, Wiltshire. My round included only three pars and I hit five out of seven fairways and made three greens in regulation. I'll remember the bank holiday as one of the best rounds of my life."
Jack Hay
"As a 5-day week member (h'cap 18), it's a rare that I play on Saturdays but was asked to join the mixed team my wife Sue (h'cap 22) already plays for in an away match. It was a nerve-wracking experience, and my drives on the first few showed it. But my partner, Pat, was a steadying influence and kept us in the match despite us both not knowing the course.
"When my confidence kicked in my game improved and I suddenly discovered the problem of turning my arms instead of my body in the follow through. After that we clocked up some winning holes and eventually won 5 & 4, finishing off with a gross birdie on a long par 5. We lost overall Sue and I won our matches, so now I'm keen to go again, and will be signing up for full membership next year! A lovely day to start the holiday."
Steve Lewis
"With my son Harry, aged 12 (h'cap 26) I played a competition but unfortunately at the 3rd hole, Harry started to suffer with a stomach complaint. Courageously he said he was happy to keep playing. I had taken only 45 shots after 10 holes with a 16 handicap but Harry became more sick and was in a lot of pain. "Eventually we had to N/R and return to the clubhouse and all was well after a visit from the doctor. I had better luck on Monday. I played Minchinghampton 'B' team match against local rivals in which we won the trophy and my partner and I won 3 & 2."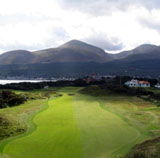 Pete's view of Royal County Down
Pete Makepeace
"Three of us headed for Royal County Down having stayed there in February while the course was under snow! We played with a club member (essential for the many blind shots requiring local knowledge), which also gave us the opportunity to play from the white back tees. We even played the par-3 4th from their championship markers (215 yards).
"The course was fantastic, an incredible experience, and a very stiff test. I took the picture looking down the 9th fairway (the tee is 180 yards behind the camera!) Mesmerising scenery."
Craig Sclare
"Don't know what it is about getting excited about golf, especially on a bank holiday but we played the usual youngsters v old'uns family fourball at my home course, Belton Woods in Lincolnshire.
"I'm currently going through a self-realisation phase (golf lessons) and performing poorly was not an option. Though the swing technique changes I had made at first felt weird, I stuck with them – trusting I would get better. And I did! "From the 4th hole until at least the 15th, I played as well as I'd ever played and my aggressive slice disappeared."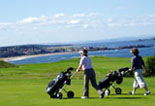 Golfing at Glen GC, North Berwick
Norrie Davidson
"Played in a competition at Glen, North Berwick but wasn't all that clever, really. Although I had seven fours on the front nine, a seven and a six, the back nine looked like improving. But no. I hit the green in regulation six times only to three-putt them all for bogey. I haven't played to my handicap all season so please give me a break!"
Colin Shaw
"With my wife Val and my brother-in-law, we didn't take an exotic break over the Bank holiday but we are hopelessly devoted (perhaps that should that be 'divoted'?) to The Abbey Hotel and golf course in Redditch.
"Our 'Sunday driver' break cost £70 per person, including dinner bed and breakfast, golf on both Sunday and Monday. An excellent price. "The beautiful parkland course was very well organised and in 'par-fect' condition with some tricky holes surrounded by mature trees and small lakes which only added to our enjoyment. We had a great bank holiday and would definitely recommend it."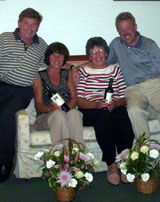 Syd Hayward and golfing partners
Syd Hayward
"I had a full weekend of golf at the club where I'm a member – an inter-club match on Saturday, individual competition on Sunday (managed to reduce my handicap), then on Monday me and my partner took third place in the mixed invitation day. No travelling on the busy bank holiday roads, just enjoyable golf with friends old and new."
Paul Bromby
"Unfortunately this is a Bank holiday tale of misfortune for my playing partner. While practising for our club's 36-hole Victory cup he borrowed an antique hickory-shafted putter from one of our elderly members and after holing his first three efforts from 10 feet, leant on the club which snapped in half!
"He eventually contacted English golf heritage and was put in touch with someone who made these type of putters 50 years ago. It cost him £70 for a replacement shaft and grip. Golf can be an expensive game."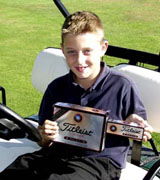 Billy Joe with one of his prizes
Billy-Joe Bugden (aged 8)
"Over the bank holiday I went to Cheshire to play in the Northwich Mayor's charity golf day and finished runner up. Then I returned to Bournemouth and played in the Young Masters southern area qualifier and won my age group and was the overall winner of those under 16 years. I also played a round with my grandad."
Keith Lewis
"On the bank holiday Sunday morning I took my family to Alton Towers and enviously thought of my friends Tudor and John back home playing golf at Mile End, Oswestry .
"Later I received a text message 'hot news from the golf course' and 'phoned Tudor to be told that John had taken 23 on the 14th hole, most of it playing pin-ball in a bunker! His dejection was later lifted with a hole-in-one at the par-3 17th.
John Hoath
"On a weekend break with my wife near Blackpool, I played at Fleetwood (an old established links course) which was flat but with some delightful holes.
"The par-4 fourth (360 yards) is one I will always remember. With a left-to-right wind off the Irish Sea, I hit a good drive to within a 6-iron of the green which was tucked behind a grassy hollow. My next shot demanded another fade straight towards the sea, allowing the wind to bring it back round the corner. What a feeling to pull it off. A beautiful hole on a wonderful day!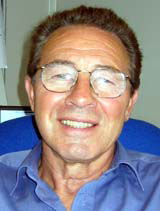 Peter Scully – hole-in-one
Peter Scully
"My club's Strongbow (Medal) Trophy turned out to be memorable. Playing off my 16 handicap, I had a hole in one at the 135 yard ninth hole to achieve a lifetime's ambition.
"I pulled a pitching wedge left but high on the upper slope, the ball bounced right, rolled on to the green and into the hole at right-angles! Somewhat stunned I took 12 on the par–4 11th - my worst ever score on a hole!
My game, ego, ambition, motivation and the holiday weekend ended with a £91 bar bill and indefinite embarrassment."
Jeff Ayshford
"Playing at Dainton in Devon on bank holiday Sunday, I teed off on the 15th hole and 'toed' the ball back onto the fringe of the 14th green as the two behind us were approaching the green.
"Though I was embarrassed to be there, they agreed to let me play on. But in my anxiety hit my 8-iron over trees and back onto the 15th fairway, I stuffed the ball across the 14th green, under a bush!
"All that was left then was for me to pick up the mess off the green and try to piece together the bits into the 'hells own divot' I'd dug in the fringe!