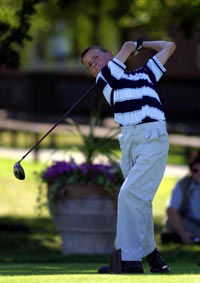 Nicholas Eardley –trying again.
Over 100 of the finest boy and girl golfers will be taking part in the Weetabix-sponsored Golf Foundation Age Group Championships at the Marriott Forest of Arden Hotel in Warwickshire next week (August 19/20).
They represent the cream of Britain and Ireland's golf future, including Shane Smyth, teenage son of ex-Ryder Cup player and current US Champions Tour winner Des Smyth, from County Louth, Dublin.
Youngest girls this year is 13-year-old Rachel Connor from Manchester, playing off seven handicap, while Christopher Lloyd, a five handicapper, aged 11, from the Kendleshire Golf club near Bristol is the boy's youngest.
Forty-four girls and 60 boys have qualified from 15 regions including defending champions Lee Lewis (Gower), Nicholas Eardley (Burslem) and Melissa Reid (Chevin).
Families are also well represented – including Andrew and Adam Myers and Rachel and Charlotte Smith (all four from Northants & County GC) and Haminder and Kiren Matharu from Sand Moor Golf Club in Leeds.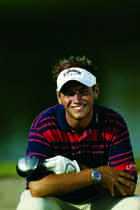 Nick Dougherty
European Tour star Nick Dougherty (21), in his new capacity as Youth Ambassador for the Golf Foundation, will be there at the event to stage a series of coaching clinics.
He says: "The Golf Foundation and Age Group Championships are vitally important for developing junior golfers. It's at this early age that we need to nurture young golfers' talent and enthusiasm for the game in order to maintain their interest in golf and prevent losing talented players to other sports."
Former winners of this Weetabix event include European Tour professionals Justin Rose, Lee Westwood, Ian Garbutt and former Curtis Cup player Rebecca Hudson. Steve Webster was also a competitor.
The Golf Foundation, whose objective is to help develop and promote junior golf throughout the British Isles, has been successfully running the championships for 16 years to provide an opportunity for boys and girls to play against golfers of their own age off scratch.
The event is open to boys under 16 and girls under 17, so why not go along and support them.