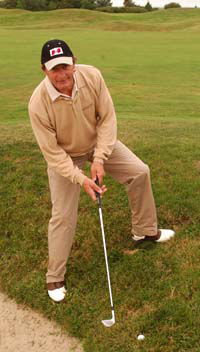 Klammer - almost bunkered!
With huge hands clasped around a fork in his left and a knife in his right, Franz Klammer sought to explain to wide-eyed golfers at the dinner table, how it felt to ride a downhill run gripping his ski poles on the way to an Olympic gold medal.
He closed his eyes and swayed in his chair like a flagstick in the breeze. Concentration was written on his face, as he re-lived his finest hour, snatching the ultimate prize in breath-taking style as 70,000 fanatical Austrians cheered him home at Innsbruck in 1976.
"I have ridden that course many times in my sleep," he recalled. "I picture every twist and turn, trying to see where I can shave a hundredth of a second here, a hundredth there.
"I used to do it before every race and when it comes to the actual time, you do it by instinct and cut the corners. You take risks, of course."
Today Franz Klammer (51) – is a golfer and a very fine one at that – six handicap with a crunching drive. And he still doesn't hang about; he likes to get on with it.
He hosted his annual 'Klammer wooden Spoon Classic' at Sandy Lodge Golf Club, near Rickmansworth last week in conjunction with the Austrian Tourist Board and told me what golf means to him.
"I first played golf out in New Zealand near the end of my ski-ing career," he recalled. "I was hooked straight away.
"When I was young, I did not play football or tennis like other youngsters. I was always ski-ing, so I never had great hand-eye co-ordination and golf was a real challenge."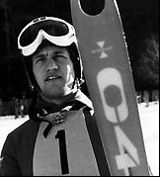 Olympic gold medallist
Still very fit for his age, he says he's attracted to golf because, like chess, you have to think your way round the course and plan where you want to put your shots.
"In some ways it's much like ski-ing in a downhill. Plotting where you can attack and where you have to be cautious," Klammer explained.
"You also have to work hard to mentally remove the self-doubts. In golf there is too much time to think about what could go wrong. It is great when you get things right."
Unusually self-deprecating for a sporting legend, he claims he's 'not very good' at the game but admits he spends hours practising and playing at Bad Kleinkirchheim, in Austria's Corinthia region, during the summer months.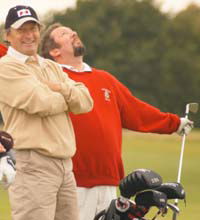 Klammer shares a joke with Tim Beard
In the winter he often shuns the ski slopes to catch up with other heroes like Ivan Lendl and Michael Jordan playing golf on the US celebrity circuit, where he's still a big name.
But he does have one golfing appointment in Europe he's keen to keep – an appearance in next week's Dunhill Links Championship over the St Andrews (Old), Kingsbarns and Carnoustie courses with his Austrian pro partner Marcus Brier.
"One day I'd love to win that event," said the man nicknamed 'The Kaiser' in his ski-ing days. And being the competitor he is he probably could – with his eyes closed.