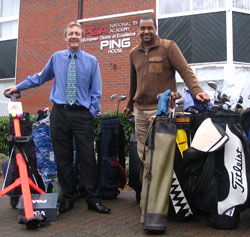 Mark Bright (right) with David Robinson, the PGA's Training Manager at The Belfry and his cache of old clubs and bags bound for The Gambia.
Mark Bright, BBC television and radio pundit and former Crystal Palace striker has become a golfing missionary. He's shipping hundreds of golf clubs to Africa with the help of the PGA.
His Golf in The Gambia project received a welcome boost the PGA's Belfry headquarters when he collected equipment to pack his car, after a flying visit to the Midlands course.
"It was great get the PGA's help," said Bright (45). "There were so many bags I struggled to fit them all in!"
He started the project two years ago after visiting The Gambia with his family and playing at Fajara, the former British colony's only golf course, with its 'browns' greens made from a flattened mixture of sand and oil.
"The caddies asked if I could help them with equipment because they wanted to play, too. I decided the best thing I could do would be to collect old clubs and bags and send it over to them."
"We were keen to help out," said Gary Jackson, business skills development manager at the PGA. "Mark's personal commitment to the project was clear to see, as he took the time to make a special journey to collect the equipment personally.
"We appreciate how fortunate we are having access to good equipment and facilities and know how much pleasure we get from playing golf, So, if equipment that seems out-dated to us can help others to get some enjoyment we're only too glad to get involved."
If you've got spare equipment in your garage and you want to donate it, contact www.gambiagolf.co.uk.