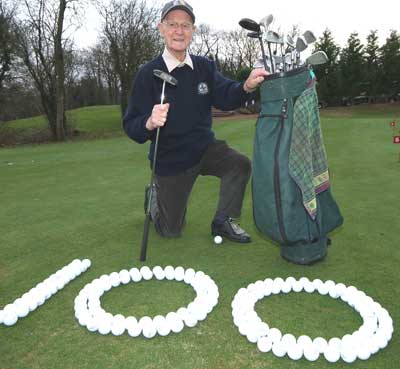 Charlie Viner - Britain's oldest golfer
Charlie Viner took up golf in 1926, the year that the legendary Bobby Jones won both US and British Open titles as an amateur and Walter Hagen completed a hat-trick of three successive the US PGA titles. The US Masters hadn't even been introduced.
This week Charlie celebrated his 100th birthday by teeing it up at his home course The Shropshire Golf Centre, where he plays three or four times every month as Britain's oldest regular golfer.
He has been playing golf for an incredible 81 years but showed that his skills hadn't diminished, clipping a 175-yard drive off the first at this Burhill Leisure Group pay-and-play course.
Recalling that first introduction to the game he clearly remembers the lesson he had from the local pro.
"He told me I was trying to hit the ball," said the centurian, a former art teacher at Wolverhampton Grammar School. " Instead he told told to let the club sweep the ball away. I still do that today."
When Charles started playing he used only a driver, a brassie, a mashie niblick and a putter and says he could approach from any distance with any club because he would feel the shot and work out the trajectory, shape and distance needed. These skills helped him score the first of his two holes in one; the other he says was plain luck.
He believes golf has a lot to offer young people today and will help sustain them into old age.
"They hit the ball and they must take responsibility for what happens to it. Golf teaches you an important lesson about being responsible and accepting the consequences of what you have done. It has so much to offer everyone."
Often he's accompanied by his 71-year-old son in law John Reynolds and uses an electric trolley to transport his clubs around the 27-hole golf complex, which also has a par-3 Academy Course, 30-bay floodlit driving range and clubhouse.