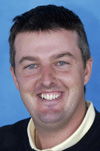 Iain Pyman.
Iain Pyman, 30 year-old Yorkshireman from Leeds, will strike the first shot in The 132nd Open at Royal St George's on Thursday morning.
And he's agreed to contribute an 'Inside the Ropes' diary exclusively for Golfmagic. You can follow his progress each day of the world's greatest golf tournament as we also keep you in touch with what's happening on the leaderboard and behind the scenes.
Sunday
It was a big thrill to make it into The Open with one of the eight exemptions offered in the Scottish Open to those not previously qualified.
I was playing really well – though I got a lucky break on 14 where my ball bounced out of the hazard - and got it to 10 under par when I holed my bunker shot beside the 17th green for an unexpected birdie. As bunker shots go it was a pretty easy one but it still nice to see them go in.
Unfortunately I pulled my final drive into the lake, hit a poor 3-wood for my second shot after taking a drop and finally signed for a seven and a 69.
But it was enough to get me in to The Open comfortably on eight under par alongside Mark Roe.
I was delighted because The Open is being played at Royal St George's, which has such happy memories for me ten years ago.
It was here that I won the silver medal as the leading amateur with a score of 281 – a score which only Tiger Woods has equalled as an amateur. So at least we have something in common.
Monday
I travelled down to Sandwich with my wife Amanda, and my sons Dane (9) and Thomas (4 months) but it was a nightmare journey. It took us nine hours from our home in Leeds – the traffic was horrendous.
So I didn't get chance for a practice round but instead we settled into our little seaside cottage near Deal – right next to the beach. It's a real treat for all of us.
Tuesday
My first chance to see the course since I last played here in 1993 – and it's not as I remember it. It's running a lot faster and bouncier.
My dad, who plays off three handicap, played here in the Halford Hewitt Public Schools Old Boys tournament a few weeks ago and gave me a detail run-down on how it was playing.
I've got great memories from my previous visit. I remember playing a practice round with Fuzzy Zoeller and John Daly – what a hoot that was. And then I played with Gary Player and Larry Mize in the first two rounds and shot 68 and 72.
Can't remember who was my partner in the third round but on the final day I played with my fellow Yorkshireman Mark James and we both had 71s to share 27th place with Seve, Mize, Malcolm Mackenzie and Des Smyth.
Played a practice round today with Simon Wakefield and Anthony Wall and after a not-very-good front nine played a lot better on the back nine and won a bet with my caddie Jan Basson from South Africa – so he owes me a beer.
Jan has been with me since the start of the year. He's a former professional and we teamed up in South Africa. I made the first two cuts so we decided to stick together.
The main thing you notice is that the fairways at Royal St George's this year are unbelievably tight. On the 17th for instance it seems only about ten yards wide and a hogs back. If you split the fairway you'd still be in the rough!
As for the rough, you can get lucky and there are places to miss it. So I'll be relying on my caddie to keep me informed on which side of the fairway to miss.
The greens are not quick but it's still Tuesday and I expect them to speed up as the week goes on. During the tournament it will be a case of finding the middle of the green and hoping your putter's working.
It looks like the course will suit a high-ball hitter – it's the only way to stay on the fairways and greens. Fortunately I hit the ball high and like playing links course, though we don't get much opportunity on Tour.
I'm playing with Mizuno MP-33 irons, which really suit my game. Since I've come back after Thomas was born I've been playing really well with them. I've got 3-iron to sand wedge in my bag.
I've also got a Callaway Big Bertha 2 driver (9-degree), Orlimar 3-wood (12 deg), Callaway 2-iron and Odyssey DFX putter. I use a Titleist ProV1x ball, which is good in the wind and suits my high-flying shots.
I also learned today that I would hit the first shot in the 132nd Open. It's a great honour –even though I will be doing it at 6.30 on Thursday morning!
I'm really looking forward to it and won't be nervous. I'm playing with Henni Otto from South Africa, whom I've known for some time and Chris Smith – a name not familiar to me.
But it should be great fun. I'll let you know how I get on in my second practice round tomorrow.