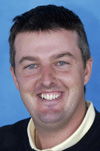 Iain Pyman - exclusive.
Iain Pyman (30) from Leeds, struck the first shot in The 132nd Open at Royal St George's on Thursday. This is the fourth of his exclusive Open Diaries for Golfmagic.
After a good night's sleep I was up at the course for 9.45 this morning, ready for an 11.25 am tee-off. Much more civilised than yesterday's 6.30 start.
Again I was hitting it great on the range where the place was packed with players, caddies, coaches, agents and manufacturers' representatives.
Unlike many players I don't have a personal coach though I have had help in the past from Neil Webb who's the pro at a driving range in Grimsby.
I've found that when you get to our level it's mostly between the ears and I know more about my game than anyone when something goes wrong.
I started well today with pars at the first three holes and a birdie four at the par-5 fourth hole. I knew that if I could get two or three under par I had a good chance of making the cut after my disappointing 81 in the first round yesterday.
The crowds were terrific. We were applauded on to every tee and every green. The atmosphere was fantastic.
But after about an hour the sun came out and the greens started to become very very difficult. Some of the pin positions were horrendous and it was probably no surprise when I three-putted the sixth. But I was out in level par which, looking at the scoreboard was better than most.
But then I three-putted the 10th which put me back on the slippery slope to over par. My hopes of making it to Saturday finally ended on the par-5 14th where I hit a poor tee shot and still had 3-wood left for my third shot. I missed the green and finally took seven.
I finished with a 77 - six over par - to be a total of 16 over par but at least I took the satisfaction of being on the same mark as former Open champion David Duval, and beat Justin Rose by one!
My playing partners Hennie Otto and Christopher Smith had 76 and 78 respectively. It was disappointing for Hennie who led the field yesterday with 68 but he just couldn't hole the putts today and finished on two over par for the tournament.
But he's not out of it and I wished him luck over the weekend.
I'll chill out with the family tonight and head back to Leeds in the morning to get ready for Portmarnock where I'm playing the Nissan Irish Open next week.
But no doubt I'll be watching the final round of The Open on TV on Sunday hoping that next year I'll have another crack at it .
And I know that with hard work and a bit more luck, I'll be able to qualify by right in the Order of Merit without having to do it at the last minute (via Loch Lomond) or by pre-qualifying.